BREWERY NUMBER THREE, FULL STEAM AHEAD
By Mike Jurewicz
If anyone were to author a book about opening and operating multiple breweries in South Florida, there is little question as to who the leading candidates to pen it would be. Fran Andrewlevich and Matt Webster have already found their fair share of triumph with Tequesta Brewing Company in Tequesta, FL and Twisted Trunk Brewing in Palm Beach Gardens. You'd be hard pressed to find either taproom without a nice crowd on most nights of the week and if you can't make it in to one of the breweries, chances are you've seen Chancellor Kölsch and IPGA become near staples on the draft lines of bars and restaurants in the northern part of Palm Beach County.
It is no wonder when Johnstone Capital Partners began work on redeveloping an underused warehouse area of West Palm Beach that they wished to tap Andrewlevich and Webster with the task of opening a brewery in the newly dubbed Warehouse District. "They reached out to us and we went to take a look at the proposed spot," Andrewlevich recalls. "I know it sounds cheesy but the space really had so much character."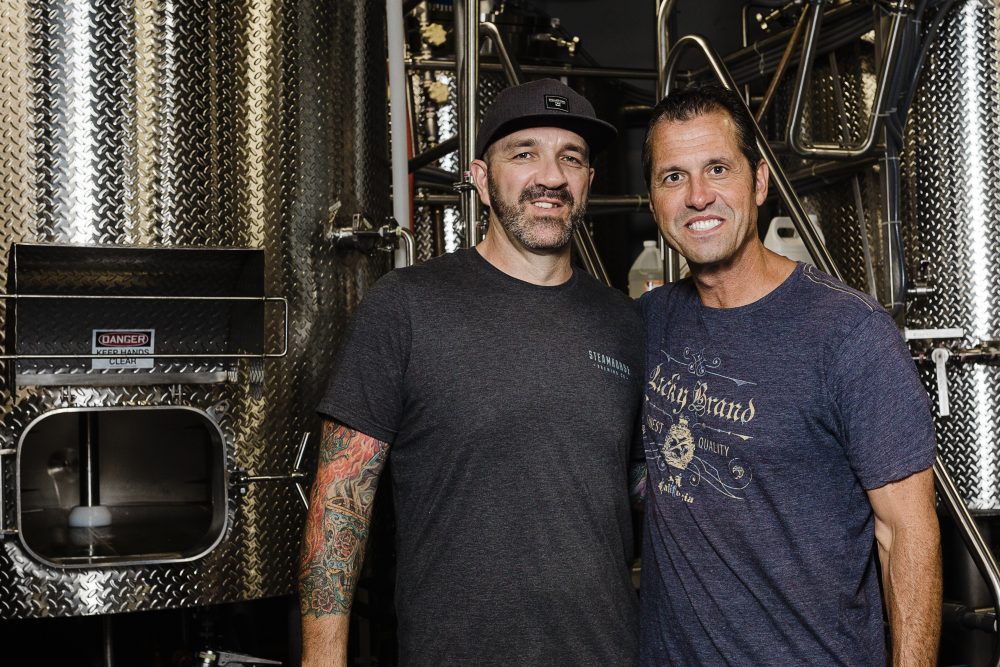 Shortly thereafter the two sides began work on Steam Horse Brewing, named for the steam engine locomotives that used to ride the recently unearthed rails found in between two rows of the developing warehouses. Opening in August of 2018 after the usual "waiting on inspections for this" and "waiting to hear from so and so on that" it was well worth the wait. A long grand opening weekend brought in thousands of thirsty folks from West Palm and beyond. "Those first 4 days we were opened exceed some of our best weeks at Tequesta and Twisted like Pumpkinfest and Anniversaries," Andrewlevich exclaimed with a smile.
It should be no surprise. For years now the sister breweries of TBC and Twisted Trunk have been known for their outstanding brews and inviting taprooms. A formula was already in place for Steam Horse to be a success right out of the gate. The exterior of the building may look nondescript with it's plain blue wall and large windows at the top of the building. Only the brewery's logo and name painted on the wall and front door gives you an idea what awaits you inside. Once inside you are greeted with a taproom that exceeds the size of its sister breweries and contains many little nods to its name sake. You will find steel girders, arches and lighting fixtures that are reminiscent of old rail stations and train storage warehouses. But a beautiful taproom will only get you so far unless your beer is any good. Spoiler alert, the beer is good.
Steam Horse Lager, a European style pale lager, leads the way with a crisp, clean flavor and that is geared towards the West Palm Beach area in general. Their eye is on making Steam Horse Lager the beer of the City, be it on draft or in cans. "West Palm doesn't have a packaged beer to call their own and we want Steam Horse Lager to be that," Andrewlevich says. It is not hard to believe that this idea could very well come to fruition.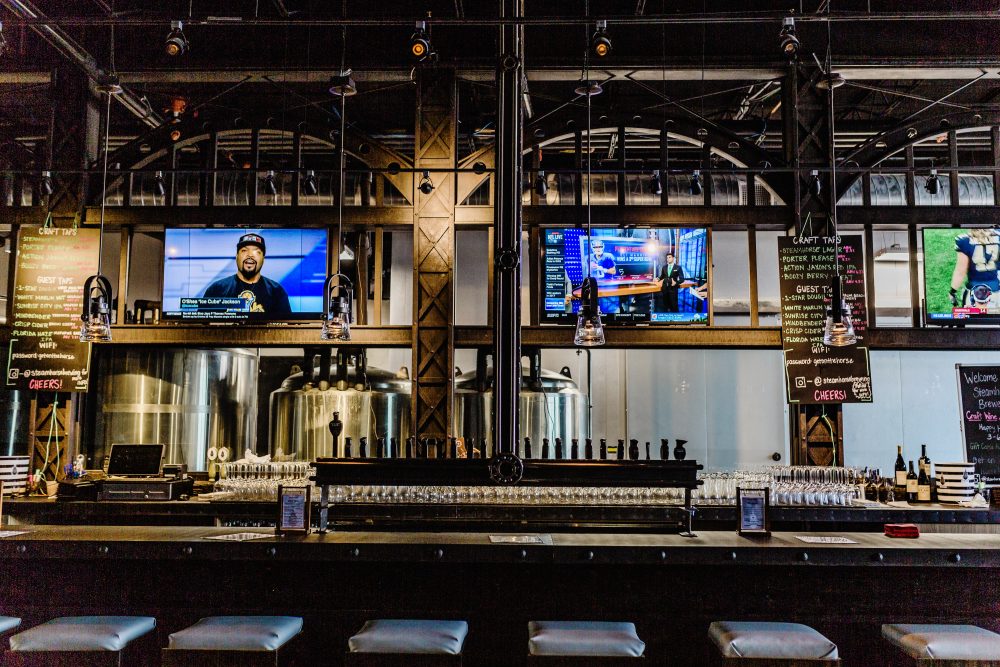 Outside of that their Knock About IPA has risen to become another year round staple for the brewery. Hopped with Citra, Simcoe and Comet hops, this IPA is packed with citrus and piney notes with a nice malt balance. "Besides the Lager and Knock About we'll see what else might become more consistently brewed. The customers may dictate that to us." Andrewlevich admits. "Porter Please has been selling really well, as have our Berliner Weisses."
As for what to expect beer wise from Steam Horse in the future, Andrewlevich isn't looking that far ahead. "I don't know. There is a lot we'd like to brew but time will tell what we put out." Besides being a brewery in an amazing space that makes world class beers, Steam Horse hosts live music every weekend and has a number of big events planned utilizing the large, open area out back of the brewery. January will see Pretzelmania running wild at Steam Horse as a local pretzel maker descends upon the brewery with his portable pretzel oven to teach about the art of pretzel making. This will be followed up by a 5 course pretzel and beer pairing.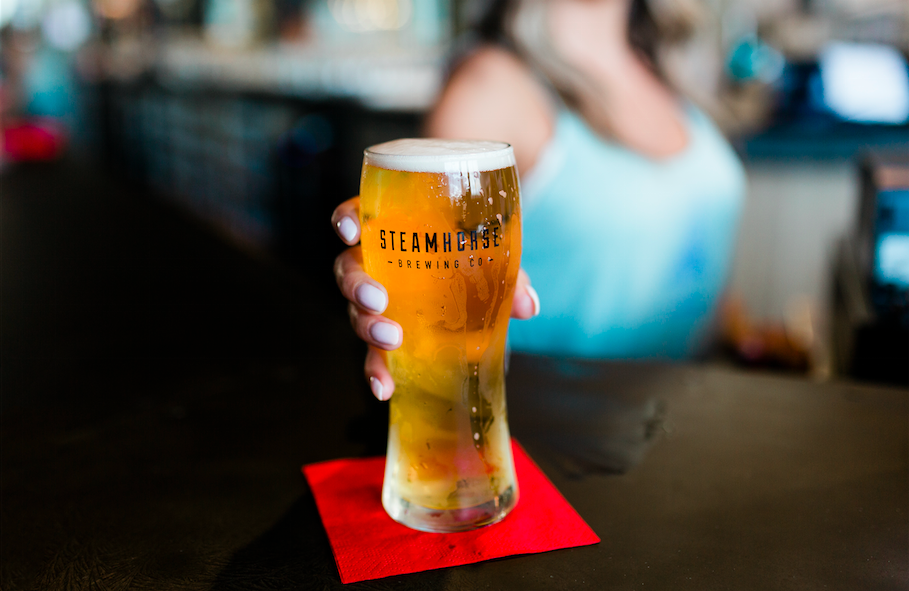 In February Steam Horse will look at crowning the King of Vegan Tacos as they invite chefs from all over South Florida to come in and flex their culinary muscle with the chance at becoming royalty at making meatless Mexican munchies. Very calculated growth over the years has proven to be just right for this growing family of breweries. Tequesta Brewing, affectionately called TBC, was the first production brewery in South Florida during it's brewing Renaissance. It was an instant hit with an otherwise sleepy beach community. Twisted Trunk Brewing saw the same sort of success in the Gardens and North Palm Beach areas when wondering if lightning could strike twice. With so many unique aspects to The Warehouse District, a brewery by industry veterans just makes sense. If the initial turnouts and response to Steam Horse is any indication, it would seem that Fran and Matt have perfected the art of not just getting lightning to strike multiple times, but to summon it at will.
1500 Elizabeth Ave #B, West Palm Beach