Stay Busy While you Drink
By David Rolland
The Jupiter beer garden in Downtown Abacoa wants to be known for more than its brews and brats. According to Kristi Marquez, DAS Beer Garden's Vice President of Marketing, they've worked hard to make sure the establishment also has plenty of live entertainment. "DAS has naturally become the local hangout for a lot of our Jupiter regulars over the years, so we want to make sure there's something going on to entertain our guests every night of the week, whether it's through live music, sports viewing or games with friends," she told Atlantic Current.
Live music is of course their staple for the last six years. Every Wednesday, Friday, Saturday and Sunday (except during football season when the focus is on the big games) you can expect to see local artists playing some tunes. Acts that have played their stage range from the Cover to Cover Band that play (you guessed it) covers of your favorite 20th century rock bands, the local troubadour Sam King, and the folksy duo Indigo Dreamers.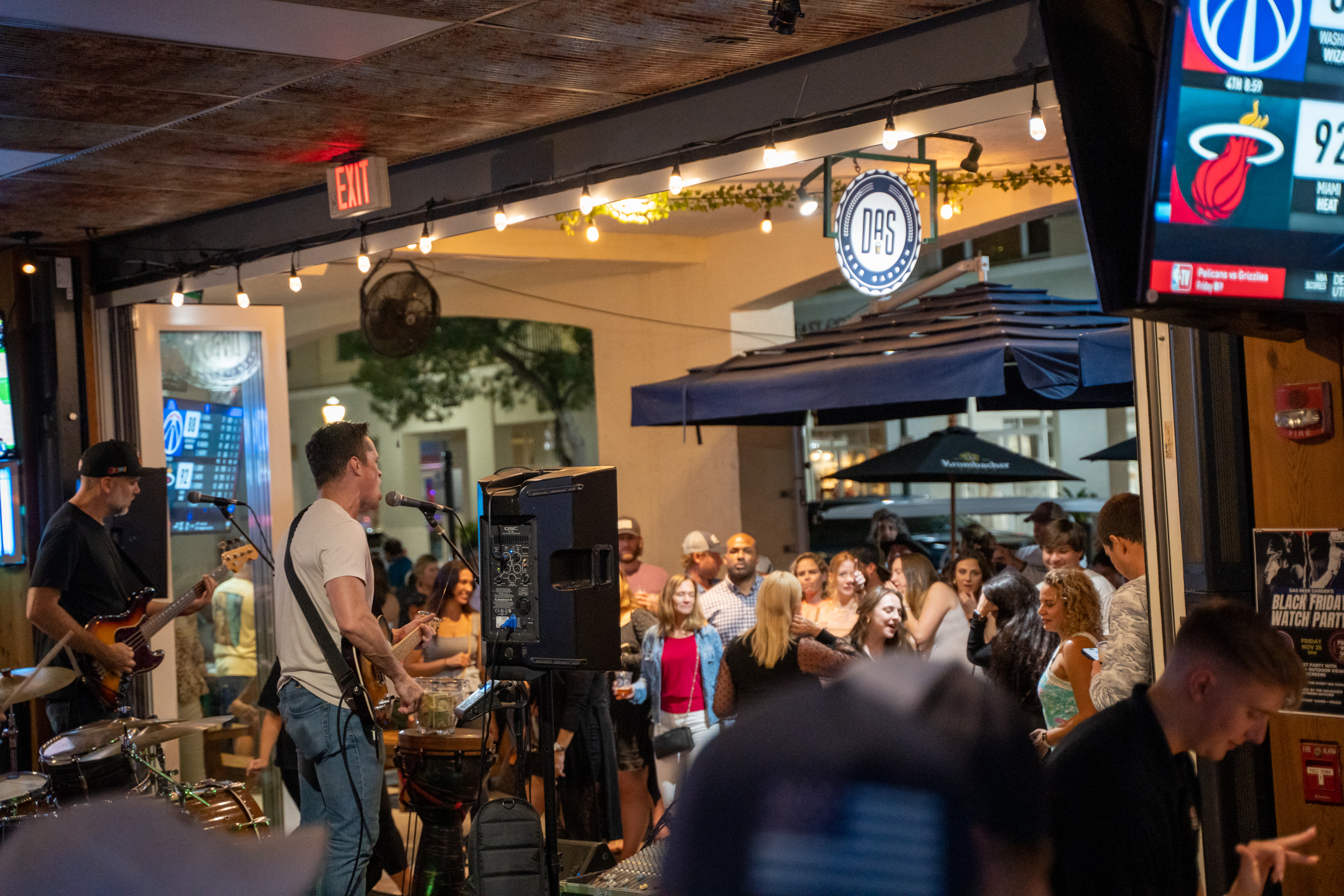 If you think you can entertain the crowd better than the pros, make sure to stop by on Thursdays for Liquid Courage Karaoke where you can get in line to sing anything from Taylor Swift to Little Richard. Mondays and Tuesdays have a more competitive edge. You can play Bingo Mondays and Think and Drink Trivia on Tuesdays where the winners receive coveted prizes. "We've offered everything from Spring Training tickets and DAStoberfest shirts, to DAS gift cards and branded beer gear like pint glasses, hats, koozies and pool floats," Marquez said.
DAS Beer Garden is also known for hosting soccer parties, from the World Cup to Copa America. They also partner with other Downtown Abacoa businesses on events like Food Truck Invasion and holiday block parties.
She adds that there's never a cover charge, "All of the weekly entertainment at DAS Beer Garden is free and open to the public. There is no registration involved, though guests must add themselves to the list for Liquid Courage Karaoke if they want to get up on stage. A lot of families even bring their kids to enjoy bingo and live music."
Check the calendar on their site or follow their social to stay up to date with their entertainment activities. Oh, and cancel your plans for the next week — you're all booked up at DAS.
dascraftbeer.com
@dasbeergarden