The Spa Palmera is a Must for Your Next Staycation in Boca Raton
By Jessica Tzikas
Photos by LDPR
It's difficult to image being stressed in our corner of paradise, but we all need an outlet for any stress that does manage to creep in. If you're coming to Boca to unwind, it's almost a given that you retreat to The Boca Raton. At Spa Palmera, the award-winning spa inside The Boca Raton hotel, you'll find relaxation and luxury at every turn. In fact, the spa is a destination on its own, with 44 treatment rooms, waterfall whirlpools, tranquil gardens and a private pool, all sitting on 50,000 square feet of pure paradise.
And, it's not just locals who are taking notice of Spa Palmera. This year, the spa received a 5-star rating from Forbes Travel Guide, a difficult feat for any destination spa. In the words of Forbes, this rating is given to any spa who can offer their guests "ultimate relaxation." To make things even more luxurious, Spa Palmera recently upped their design and revamped their treatment menu, offering visitors an array of options tailored to their specific needs.
If tranquility is what you hope for, opt for one of the spa's signature ritual baths. These start out in a Hylotherapy Salt Room — a room inlaid with pink Himalayan salt — that helps clear your senses and quiet the mind. It's then followed by a spin in the steam room, before melting into your ritual bath of choice. The bath options include elements like coconut milk and honey, candles, ice-cold mint facial compresses and even CBD-infused ingredients. You finish your bath off with a shower, warm water massage and soak in the spa jacuzzi.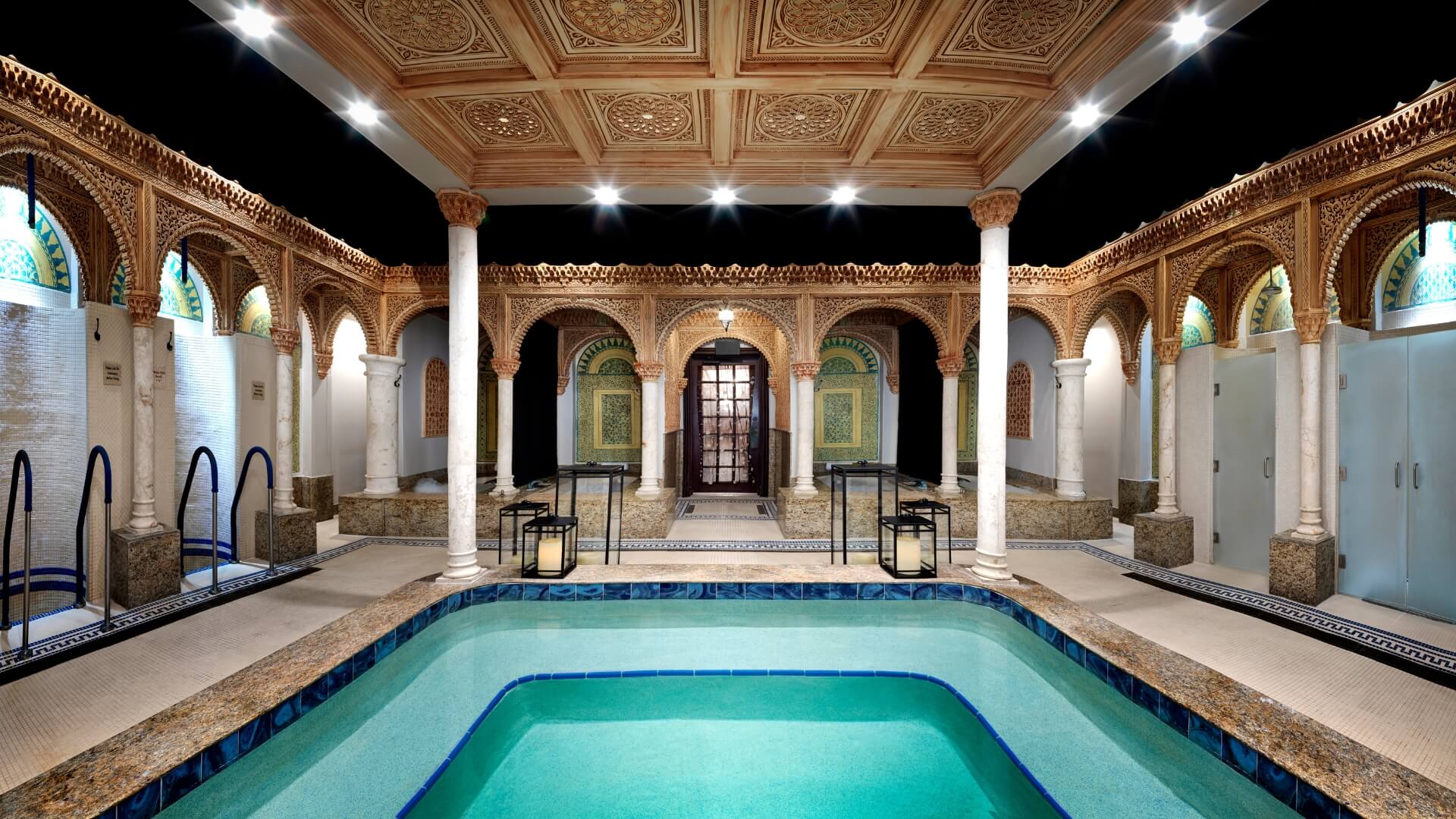 If sitting in bath water isn't your thing, opt for a long, luscious massage. Spa Palmera elevates what you'd expect from a basic massage by including warm basalt stones, aromatherapy and add-ons like a scalp oil treatment, paraffin scrub and foot massage. You can also add a facial that not only alleviates any built-up tension, but also leaves you feeling gorgeous. Consider the Diamond Facial if you are hoping to rid yourself of pesky inflammation and dry skin or the deep restorative Rose Quartz facial, which uses rose and lotus precious oils to stimulate your lymphatic system and repair your skin.
If choosing between treatments doesn't seem feasible, the spa has created signature treatment packages. They're tailored to relax the body, leave you feeling refreshed, calm and ready to take on the rest of your week. The Alhambra Escape Package gives spa guests a bit of everything, including a ritual, massage and facial, plus a pedicure and hair wash/style. If restoration is your goal, the Ayervedic Balance & Restore Package focuses on four and a half hours of true well-being, with a ritual, Shankara Abhyanga Massage, Shirodhara Scalp Treatment and Rose Quartz Facial. Couples can enjoy a romantic spa day topped off with champagne and strawberries with the Touch of Romance Package.
The best part of Spa Palmera, though, is that once your treatment ends, your day of relaxation is just beginning. Spa guests can purchase access to the resort spa, which is otherwise closed to the public. Guests can take a dip in the private pool, continue their relaxation in the steam room, sauna, or ritual baths. You can even have a delicious bite to eat at the Spa Cafe. The cafe offers Spanish favorites like tapas, along with sandwiches and salads. We're relaxed just thinking about it.
501 E Camino Real, Boca Raton
thebocaraton.com/spa-palmera