Joyfull owner Leah Landon Hopes "All the Senses are Activated" For Guests
By Natalya Jones
Photos: Julia Rose
Walking out the back door of Delray Beach's Anuttara Yoga, you'll forget you're still in a city known for the bustling Atlantic Avenue and pineapple artwork. Instead, you'll be transported to what seems like a modern yet secluded tropical refuge. Bright splashes of color adorn the ground and benches, and string lights are draped along a wooden fence. A countertop with jars of sprinkle toppings has the slogan "Choose Joy," making you forget about the road rage you almost burst into on the way over. There's a rainbow wall and feel good vibe all around. This is Joyfull, a little more than just an organic smoothie bar and vegan soft serve spot.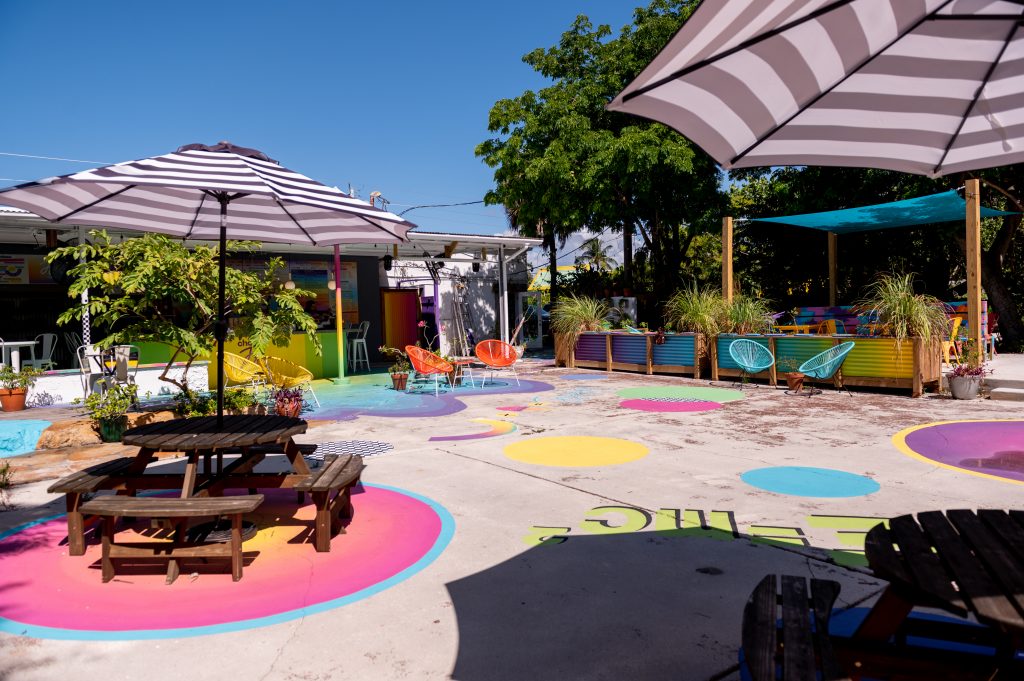 Owner Leah Landon has a longer rap sheet in two decades than most people have in their entire career. From 2001 to 2010, she worked in the music industry as a talent manager for artists such as Lady Gaga, Fat Joe, Eve, Mario, Kelis, and Jadakiss (you may have heard of them). Another hat she wore was as executive producer for shows on E! and VH1.
"In my younger years, the drive was for money, power, and proximity to celebrity and popular culture," said Landon. "The creative process and business behind music and television energized me, inspired me, and fueled the passion to complete tasks and create."
Landon then took a brief two-year break, but instead of filling it with downtime, she attended both graduate school and cooking school, became a health coach and yoga teacher, and obtained certifications in Pilates, meditation and other areas of the wellness industry.
"I took a hiatus to explore all these interests after Lady Gaga broke into superstardom and the E! television show was picked up to series," said Landon. "All my professional dreams had come true and yet something was off. Internally, I was disturbed and was seeking peace and serenity."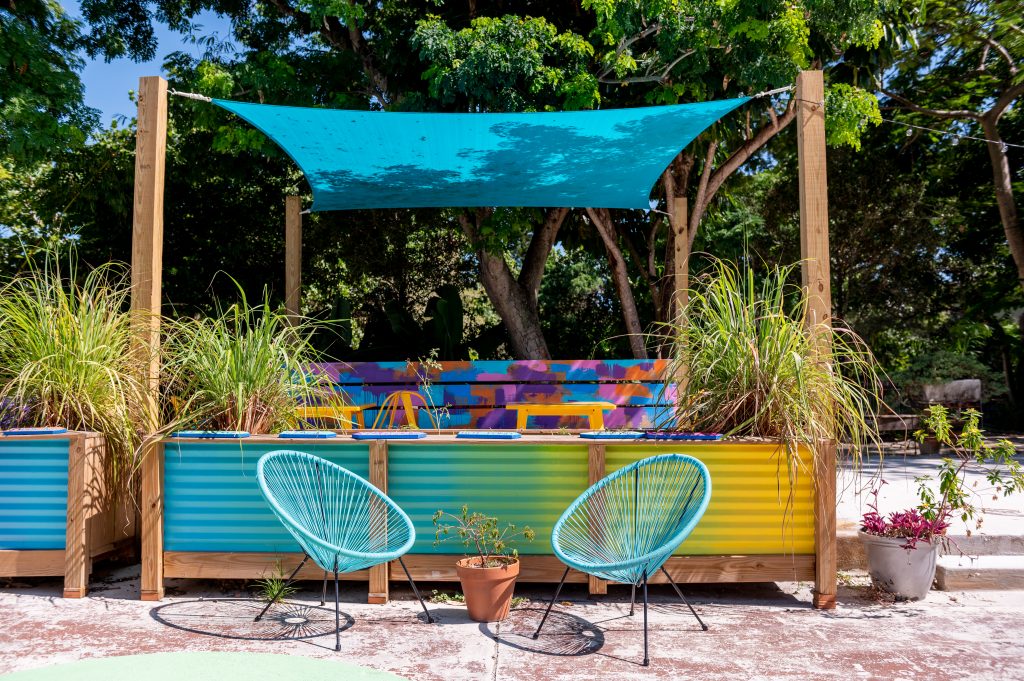 Equipped with a more wellness-oriented mind-set, Landon came back with a vengeance in 2013 serving as the Vice President of Brand Experience at New York's Juice Press for six years. Almost simultaneously, in 2014, she founded Southampton Sweat, a fitness festival that occurs in Montauk.
Fast forward to the pandemic and overuse of the phrase "unprecedented times" where Landon paid her mother, a snowbird hailing from Brooklyn, a visit. "She practices daily at Anuttara Yoga," said Landon, speaking of the studio attached to Joyfull. "I came to visit her and the studio and met the manager Blake Krause. Blake invited me down to Anuttara to see how we could work together."
As soon as she saw Anuttara, Landon was pleasantly surprised. "You pull up to a shopping center and behind the gates you are transported to what felt like a retreat in Costa Rica," she said. "Hammocks, koi pond, native trees, infrared sauna. I didn't want to leave. Blake envisioned a food and beverage concept that would bring the community together in this very special and unique backyard garden. He asked me to come down to Florida to create something here."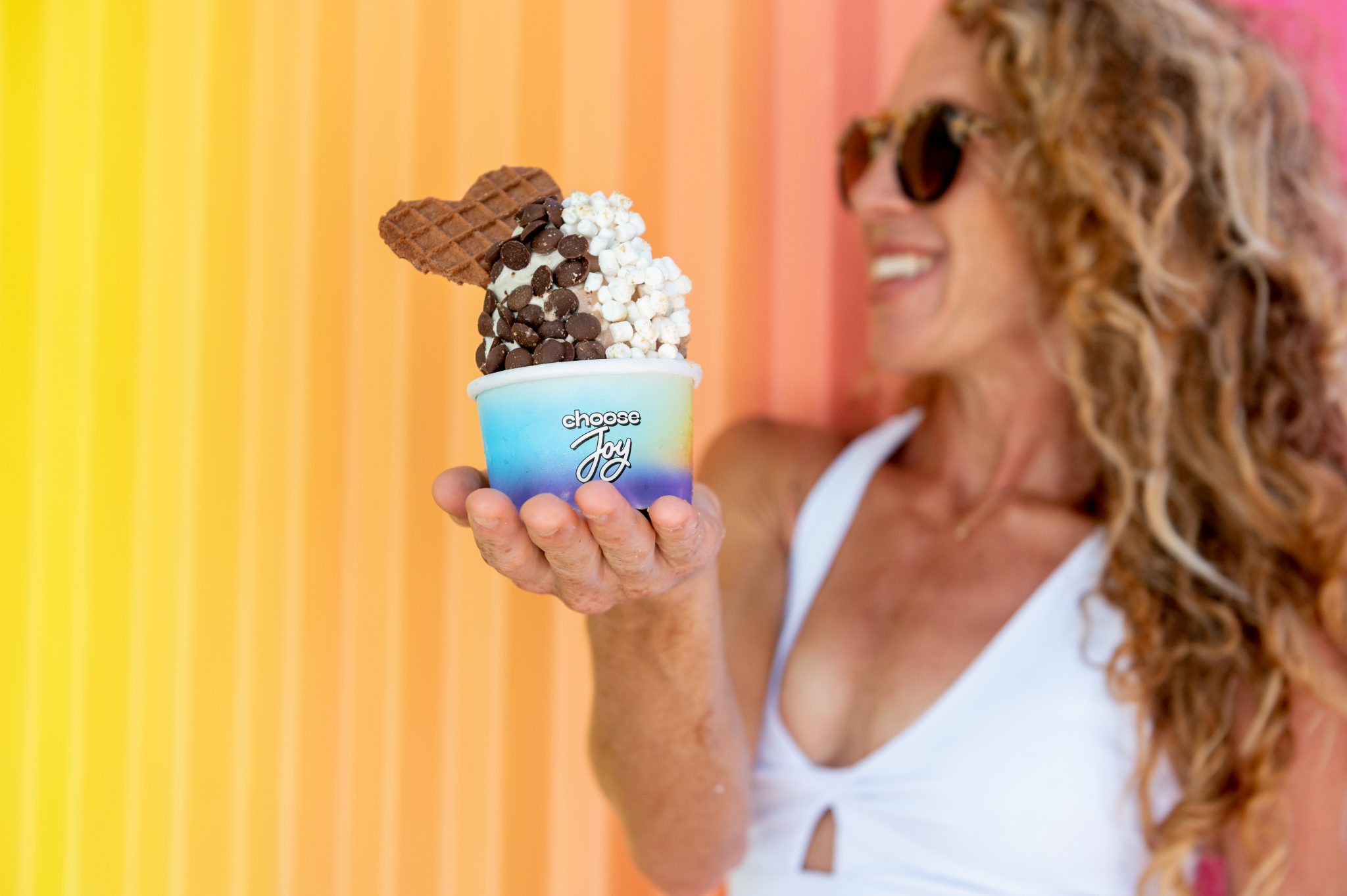 And create they did. Joyfull is as health conscious as it is tasty. All toppings, along with being vegan and organic, are gluten-free and consist of chocolate chips created with coconut sugar, cauliflower pretzels, grain-free granola, and more. The ice cream does not contain alcohols, preservatives, artificial flavors, or corn syrup, and is made from oat milk. "I learned from Juice Press that smoothies are loved by the consumer and also noticed a trend of people moving away from nut milks and the explosion of oat milk," said Landon. "Oat milk soft serve felt like a unique product and awesome offering for the Delray South Florida community."
Smoothies can be made with raw organic coconut water or oat milk and can also include a healthy boost, like ginger, maca, turmeric, and herbs. The lattes are just as unique, like "No More Depresso," a drink that contains housemade pecan milk.
"We hope to spark joy. We are 100% committed to the health of the body and aim to offer thoughtful, nutritionally informed options to the consumer," explained Landon on the concept. "However, we learned having a healthy body was not enough for us personally. We wanted to feel good emotionally and spiritually. We wanted to cultivate an experience that fed all the needs of the consumer mind, body and spirit. We wanted to create a joyful experience especially as this concept was birthed in the midst of a pandemic. We try not to take ourselves too seriously and love to be playful where we can. We have fun with the colors, product names and design, and most importantly, highly value the experience with the staff behind the bar. A warm smile, good conversation, great service and hopefully learning something about food. We hope all the senses are activated after you visit us."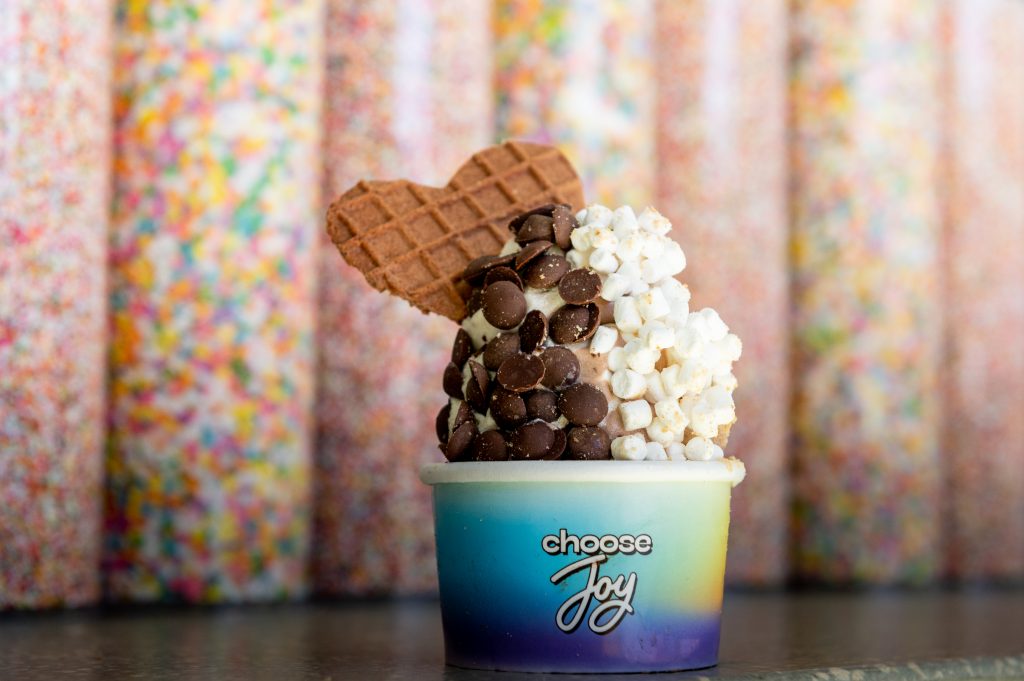 This is evidenced in the menu, which contains the company's mission, values and 111 moments of joy. The moments are comprised of various actions or things that are uplifting, such as "a Saturday with no plans," "making my friends laugh," "a good haircut," "finding extra money in your coat," and more. Landon, her mother, siblings, and friends came up with the moments themselves. It may sound daunting to list more than 100 moments, but Landon said it best: "If you are open to it, you can find joy everywhere."
When asked what the entrepreneur/wellness guru had in mind for the future, Landon's answer was simple: "Just to listen to the customer and see what their needs are. We are looking at locations where we can continue to spread more joy. We are noticing the love of young families who love to bring their kids in for a soft serve that doesn't compromise their nutritional boundaries."
The unique space can also be rented out for events such as birthdays, weddings, etc. Try doing that at Smoothie King.