Chef Clay Carnes Brings a Lifetime of Global Culinary Experience to Cholo Soy Cocina
By Rachel Levy
For Clay Carnes, acclaimed chef and owner of Cholo Soy Cocina in West Palm Beach, the culinary arts are less of a throw-around 9-to-5 and more of an embodied identity. He's known around the country for his success on Food Network's "Cutthroat Kitchen," but that achievement is just one of many for the talented cuisine-man.
"I've just been working in restaurants, you know, literally my whole life," Clay shares. Summer jobs in local joints at the ages of 12 and 13 directed him to an eventual line cooking job in Palm Beach that led him to culinary school first at the French Culinary Institute in New York City and then at ALMA, a school of Italian culinary arts near Parma, Italy; two experiences that landed him the Executive Chef role when he returned to that same Palm Beach restaurant at the age of just 23. Following this, Clay headed to Ecuador, an experience that ultimately came to influence the beloved Latin-American food fusion experience he's now offering at Cholo Soy Cocina.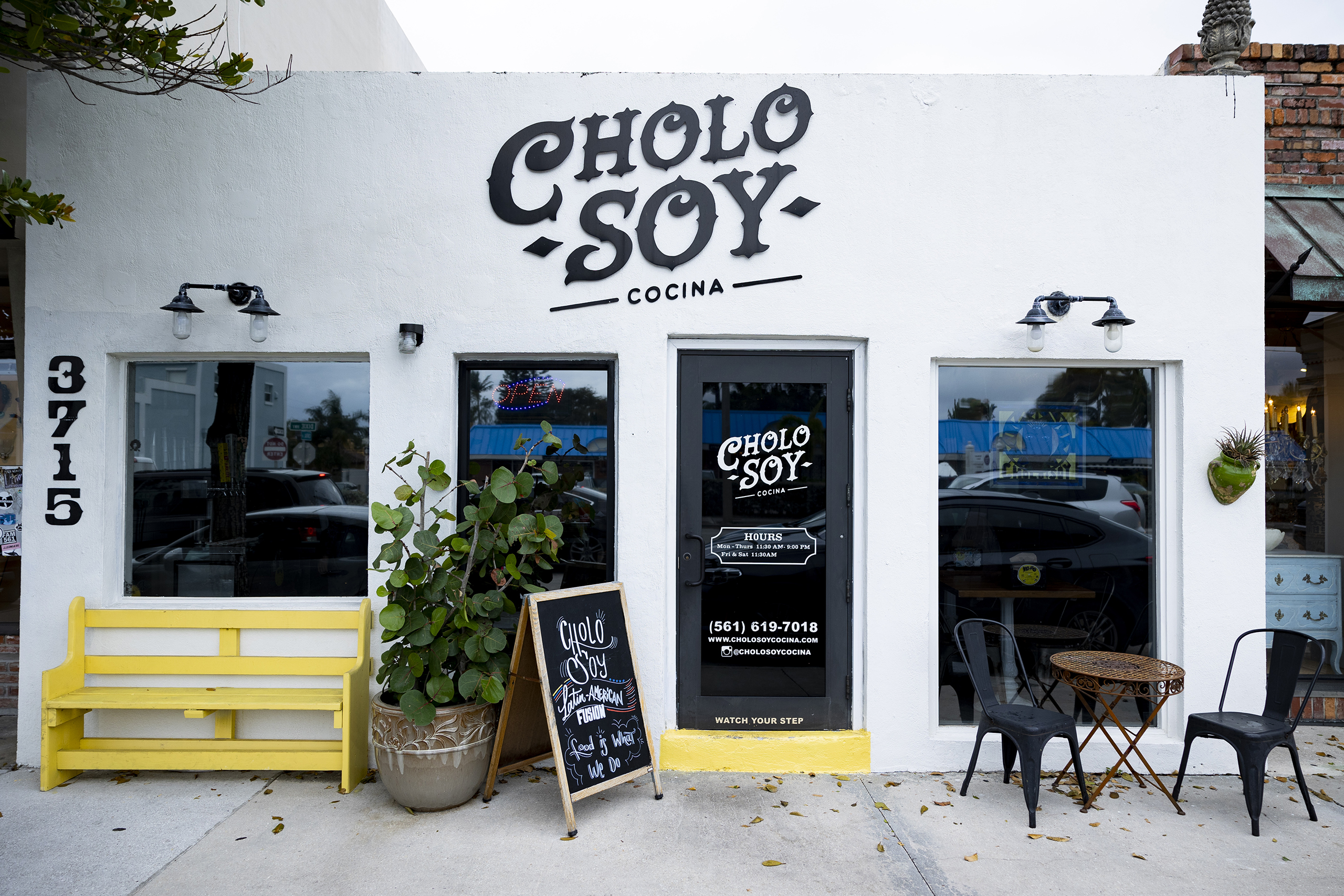 Clay says that he's taken the lessons from his lifetime in kitchens around the globe to create for a truly elevated experience for his patrons at Cholo Soy Cocina.
"The techniques we use, which are a product of all the different stuff I've learned, you 100% just won't find anywhere else."
The unique spin and creative edge of the establishment is evident at first glance of the menu: from Pescadito Frito tacos to Octopus & Chorizo tacos, anyone who mistakes this place for your average Mexican restaurant does a disservice to the creative genius and experimental nature of its head chef.
"The best flavors are our favorite childhood dishes," Clay said. "Anything, anything, anything, that we can dream up, we can 100% execute here."
And execute they do. However, patrons coming for the promise of good food are increasingly staying for the warm atmosphere Clay and his family have lent to the space.
"I designed the whole place and myself and my dad essentially built the place from the ground up with a lot of help from my wife," he explains. After being in restaurants his whole life, he wanted a place that was warm and felt like home.
"We started out with four tables inside and three picnic tables outside; now we have an entire tropical oasis, graffiti-filled open-air patio with capacity for like 40 people in the middle of West Palm on a busy street," he muses. "The vibe just built itself, but by reflecting my family."
The goal was to make the space feel lived in.
"It's like people's houses," he says. "You go in, and some have just really spectacular marbled walls and it's great. And it's like, wow, this is super nice. But, then the art is not always hand-picked; It's not always warm. Should I sit on this couch? Or just look at it? You know? So, yeah, here we are trying to find that balance."
One encouragement that contributes to the balance — and is a cultural nod to Latin America— is the "¡If you're able, share your table!" This phrase was coined by Clay's friend — and the artist behind the graffiti-covered walls — Mark Bulks of Bulk Styles.
Call it what you may, but there's certainly a harmony that both the patrons and Cholo Soy community have tuned into that make this space so special. Between the many happy customers, the undeniable charm of the space, and the exceptional menu, I think it's safe to say that Clay has reached that comfortable balance that he set out for.
3715 S. Dixie Hwy, West Palm Beach
@cholosoycocina