Meet Delray Beach's Piano Man
by David Rolland
It all started with a vacation, SpiderCherry says, on how he became Delray Beach's preeminent keyboardist. "My family moved to Boca. I was down here on a vacation playing some open mic nights," remembers the English born and bred musician. "I played Queen's 'Bohemian Rhapsody' and the manager of the restaurant 3rd and 3rd asked how long I would be in town. I booked three shows for those two weeks. I made more money on vacation then I did back home."
It didn't take much more convincing those six years ago for the man born as Nathan Mercado to pack up his bags from London and make Delray his new home, a locale he found welcoming not just because of its warm weather. "I found a real good crowd of people. The bar Kevro's had a jam night just about every night, and I met some great musicians. My accent probably helped me meet some people," he joked.
SpiderCherry began playing music as a kindergartener. "My parents bought a piano then, more to hold the family photo's than to be played. I took some lessons to learn the scales, but mostly taught myself. I dabbled in other instruments like guitar and drums since they each have their own flavor."
He came up with the name SpiderCherry to represent his theatrical side. The name came to him when he started thinking of ways to differentiate himself. "How can you brand a name so that it is big? How about two words that don't go together that you can make a cool image from? Something like Guns n Roses. So I thought 'How about Spider Cherry?' Plus it sounds like an alter ego the same way Ziggy Stardust does."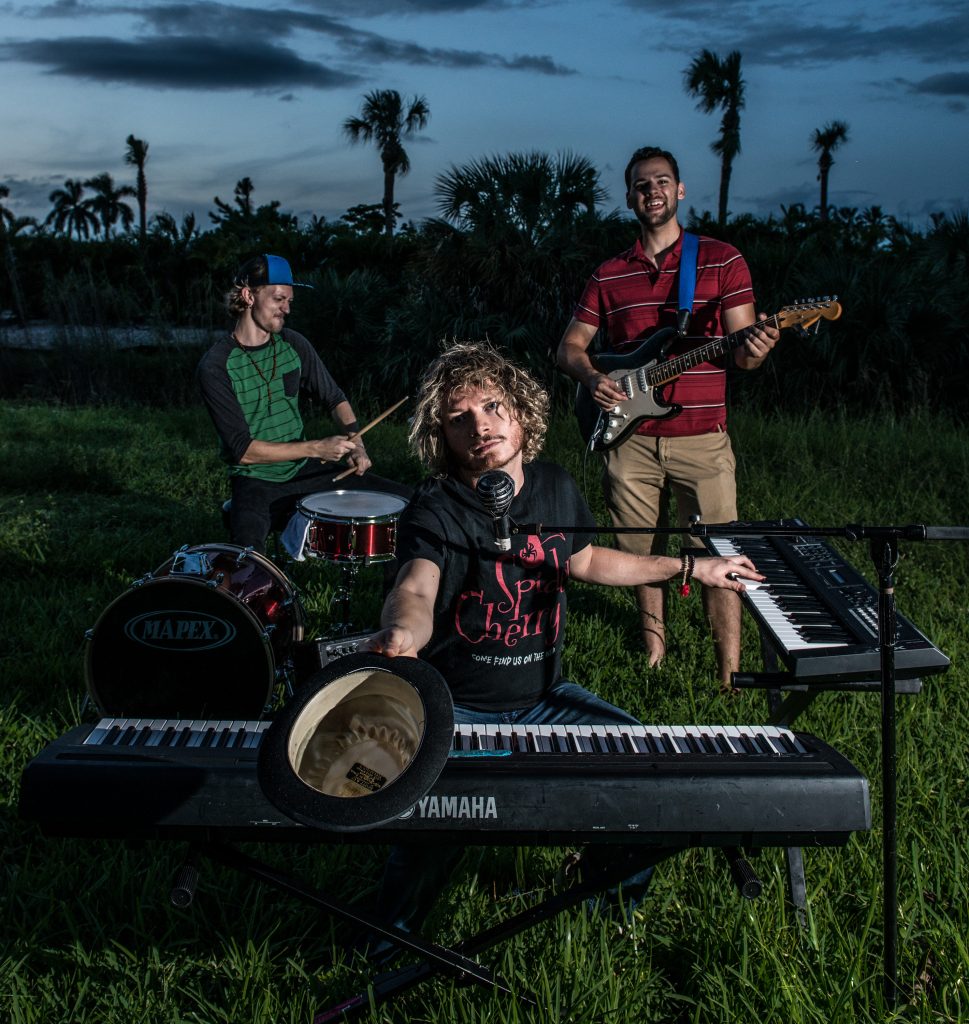 One of his trademarks as a live performer that makes him seem slightly alien is his ability to play two keyboards at the same time. "I used to do a one man show with a drum as well, that I banged with my foot," SpiderCherry recalls. His current distinctive playing style has one keyboard directly in front of him that he plays with his right hand and a "bass" keyboard perpendicular to it that he plays with his left hand. "I used to play one keyboard, split right in the middle, when randomly a friend was selling a keyboard I liked quite a lot. I realized I didn't need to watch my left hand while I played. I can play blindfolded, so I tried it out. It gives people something they have never seen before. Plus I can add a lot of musical twists with the two keyboards."
Fans will see a more subdued side of SpiderCherry on his new album "A Casual Affair," available now. "Stylistically, it's more Southern rock," Nathan said. He is already working on another EP that will be more theatrical to the SpiderCherry ethos, where he's influenced by acts such as Queen, Nirvana, Muse and many others.
There's one song on "A Casual Affair" that stands out to SpiderCherry the most. It's called "Tired Eyes" and it brings SpiderCherry's bond with Delray Beach full circle. He dedicated it to John Paul Kline, the owner of 3rd and 3rd who passed away a couple of years ago. Kline was the man who first booked SpiderCherry all those years ago, convincing him to call Delray Beach home. "I wouldn't be here without him."