What is it, Why Does it Come With So Many Dollar Signs, and, Most Importantly, Where Can You Get Some?
By Jessica Tzikas
If you've ever seen wagyu on a menu and wondered what, exactly, you are ordering, you're not alone. It's a delicacy that can be traced back to Japan and has now been exported and adopted in other parts of the world. Wagyu cattle are raised and fed in order to maintain a heavy distribution of fat throughout their bodies. This creates the marbling in the meat — and the buttery flavor of course.
If you are looking for wagyu here in South Florida, you're in luck. There are quite a few local spots that are recipients of the delicacy. Here's where to go and what to order.
1000 North
Located right on the waterfront in Jupiter, 1000 North is a covet- ed spot to dine any night of the week. Not only is this restaurant gorgeous — you can even arrive by boat — it is backed by celebrities, including founder Tucker Frederickson, a former New York Giants player. Meat lovers will fawn over the prime steak tartare with black truffle, the Dijon crusted prime rib (only offered Friday through Sunday) and of course, their offerings of wagyu steaks.
How to Wagyu: If you've never tried wagyu before or are hoping to get your fix, the domestic wagyu skirt steak is the move at 1000 North. Diners can also choose between an Aussie NY strip and a filet, both of which can be spiced up with butters and sauces like blue cheese and fig or béarnaise butter.
1000 US-1, Jupiter
@1000.north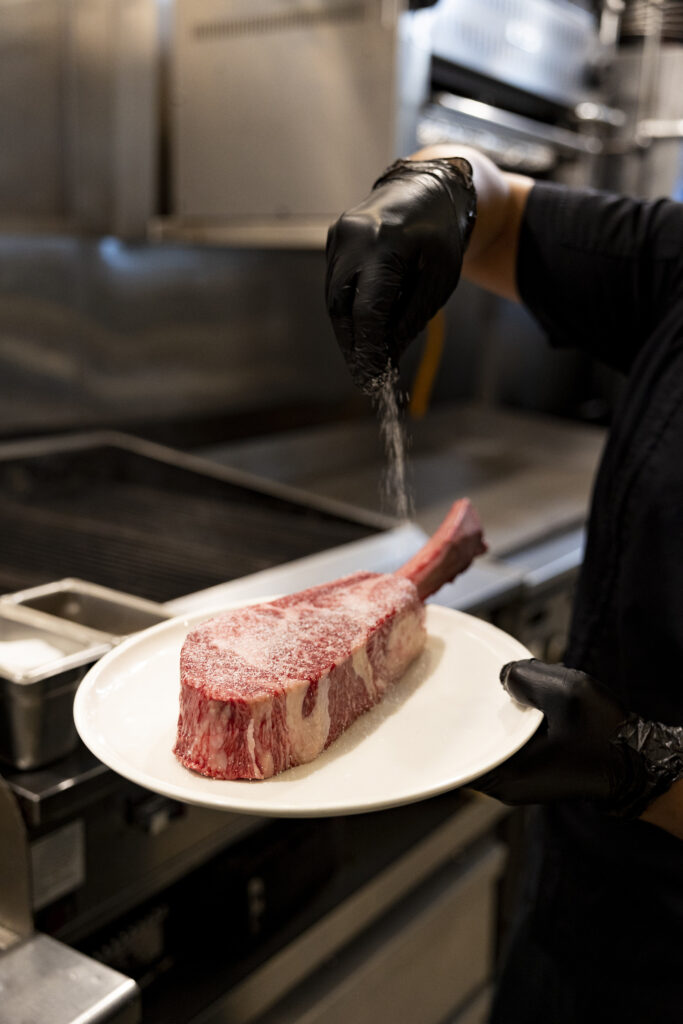 Cucina Palm Beach
Craving a luxe night out? Look no further than the posh Palm Beach spot, Cucina. Serving Southern Italian food, Cucina Palm Beach is known for their crafted cocktails, handmade pastas, and overall vibe. It's also big on nightlife.
How to Wagyu: The wagyu cuts at Cucina include the Aussie Tomahawk and boneless short ribs. The Aussie Tomahawk is grilled to perfection and served with house cut fries, black truffle potatoes, sliced heirloom tomato with red onion and gorgonzola. Sauces to choose from include morel mushroom velouté and barrel aged soy demi.
257 Royal Poinciana Way, Palm Beach
@cucinapalmbeach
The Grove
The atmosphere at The Grove is enough to keep you coming back, but if you need a spot to return to that you'll never get sick of, this is the place to go. The menu changes nightly, all based on the chef's inspiration and the current in-season ingredients. But one thing that doesn't change is the quality of the food.
How to Wagyu: If you get lucky enough to dine at The Grove on a night they have Japanese A5 wagyu strip, order it. Locals flock to the restaurant on the nights this cut of meat is served, so get there early and order it before your cocktails – you can thank us later.
187 N.E. Second Ave., Delray Beach
@thegrovedelrayfl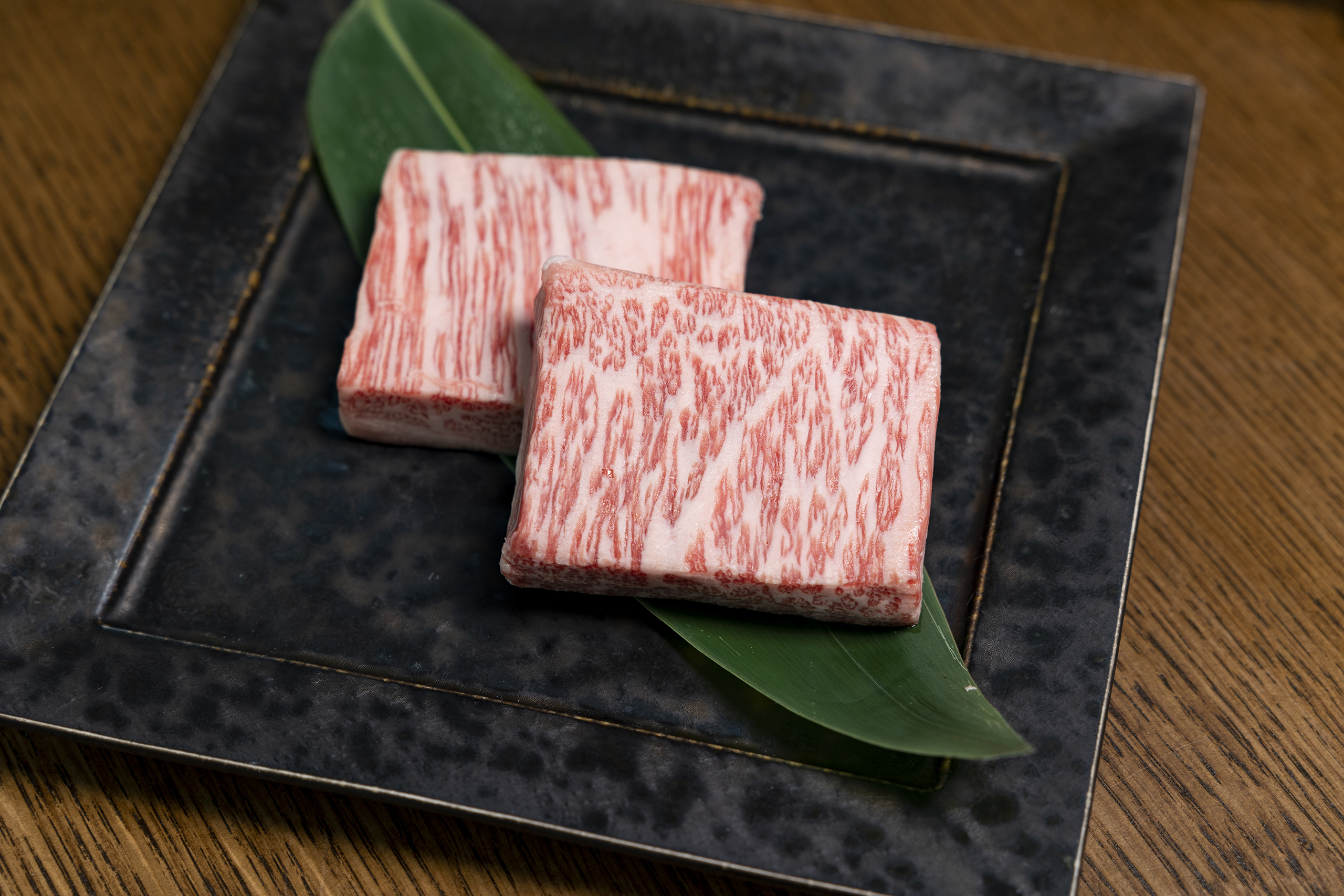 800 Palm Trail
With a menu led by born-and-raised Floridian, Amy Lee, you can't go wrong with any of the offerings at 800 Palm Trail in Delray Beach. Their specialties include the Palm Salad, a robust salad filled with hearts of palm, feta, falafel croutons and tzatziki, and their Maryland crab cakes. But it's the meat that keeps diners coming back for more.
How to Wagyu: The wagyu boneless short rib is considered one of their specialties, and for good reason. While the cut of meat is delectable on its own, Chef Lee serves it alongside red bliss mashed potatoes and black and tan onion rings, making it the ultimate, high-class comfort food.
800 Palm Trail, Delray Beach
@800palmtrail
Akira Back
Wagyu is from Japanese origin and the Japanese have high purity standards when it comes to Wagyu cattle, so it makes sense to venture to a Japanese-Korean fusion restaurant to get the best taste of the meat. Akira Back, located in The Ray Hotel, is a gorgeous restaurant with innovative dishes that all food lovers must try. The Restaurant's namesake owner and chef, Akira Back, has appeared on national shows, including Iron Chef and The Today Show, and has received cooking accolades such as being invited to the James Beard House Dinners for many years.
How to Wagyu: There is no shortage of wagyu at Akira Back. They are stocked with Aussie Tomahawk, domestic boneless short ribs and Japanese NY strip. Try the wagyu tacos with a roasted tomato ponzu sauce or the 48 hours wagyu short rib, served with root veggies and a quail egg. For something especially unique, try the Tataki. It's lightly seared, thinly sliced, and served with garlic, spicy diakon and ponzu sauce.
233 N.E. Second Ave., Delray Beach
@akirabackdelray