Ten of the best brewskis in PBC.
By Nicole Danna
These days, an IPA can be almost anything. Hazy or clear. Dry or juicy. Bold or mellow. Sweet or bitter. Soft or crisp. Piney or fruity. Take your pick — there's a style, variety, and iteration for nearly every palate preference.
The Brewers Association recognizes only two types of IPA, the flagship style of the American craft beer movement: American IPA and imperial IPA (or double IPA, abbreviated DIPA), each brewed with American-grown hops known for its citrusy, bitter, piney aromas. But what makes a good IPA? Like so many beer styles, it's a matter of personal preference for most. Overall, however, it's generally a balance of hop-forward bitterness and malty sweetness supported by a strong hop aroma.
Here are the 10 best IPAs Palm Beach County brewers have to offer.
Civil Society Brewing Co.
Juice IPA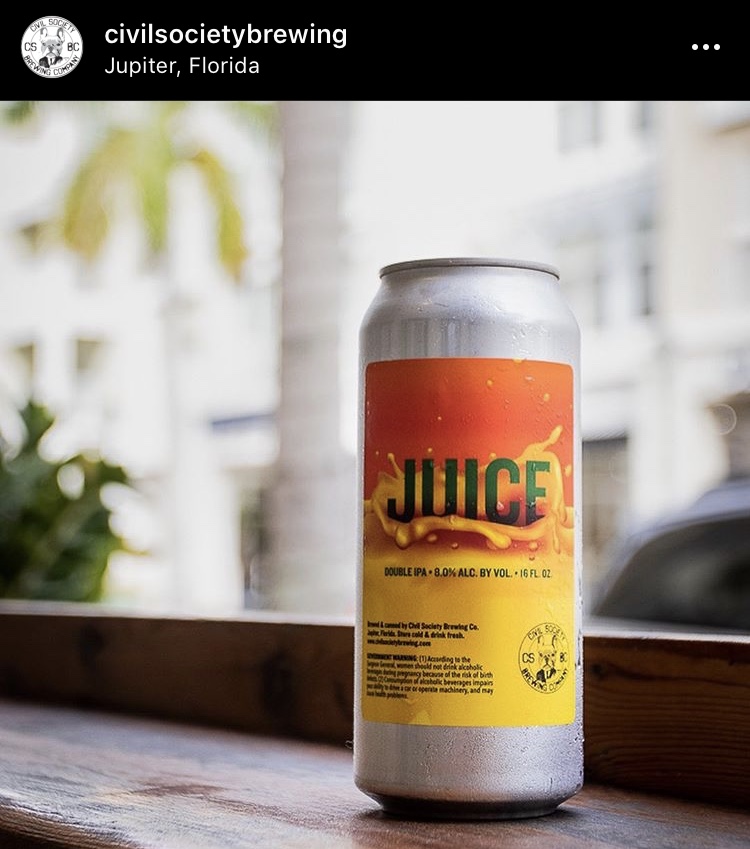 South Florida got its first case of hop heads when Civil Society Brewing Company opened its Jupiter taproom in 2013. Though the brewery is best known for its flagship IPA, Fresh, fans flock here for the brewery experimental one-off recipes and frequent collaborations with both local and nationally recognized brewers.
So, what's the best? If we had to pick just one outside Fresh, it would be Juice. Like Fresh, Civil Society head brewer Karl Volstad says he's been making Juice since his early homebrew days, and the beer was so good it's still pretty much the same. The IPA starts with a heavy portion of flaked oats that make way for an uber-hazy body. From there, it's hopped with a heady combination of Columbus, Amarillo, and Mosaic hops. 
Copperpoint Brewing Co.
A10 Red IPA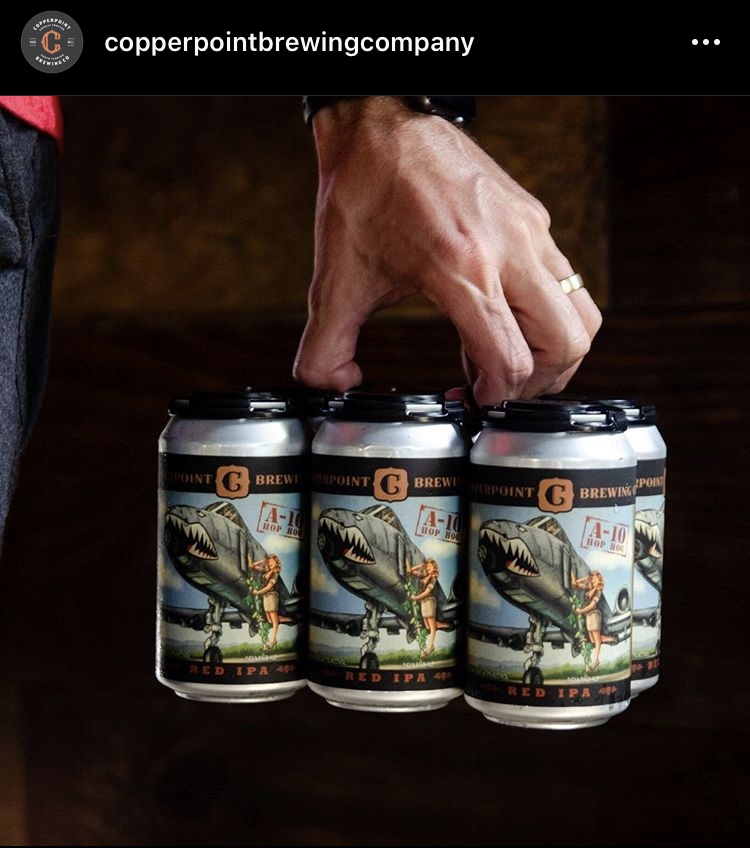 Not all IPAs need to be hazy, golden, or juicy. Some, like Copperpoint's A10 IPA, can have a little color to boot. This straightforward red IPA gets its rich amber-mahogany color from the darker caramel malts used in the brewing process. They add a significantly malty, complex backbone to this 40 IBU, 7% ABV brew. This allows you to enjoy the Mosaic hops tropical notes of passion fruit and mango without a bitter palate fatigue burnout.
And that crisp, clean taste is thanks to the water profile. At Copperpoint, all the brewing water undergoes a thorough UV and reverse osmosis purification process before marrying with malt and hops, a step that allows the ingredients' true flavors to shine.
Mathews Brewing
Accelerate IPA
In a world where hazy, chowder-y IPAs rule supreme, it's nice to see a standard-style American IPA stand out. Sure, Mathews Brewing in Lake Worth offers several stellar takes on the New England-style brews with its hazy pale ale and IPA dubbed Hop Juice and Haze. But it's the Accelerate IPA that packs the most hop flavor.
Dry-hopped with copious amounts of Citra, Simcoe, and Centennial it offers a dank aroma redolent of citrus, fruit, and pine. Pouring a rich amber hue, all those hops are supported by a strong, malty backbone that makes it an easy drinker despite its 7% ABV.
Crazy Uncle Mike's
Physical Graffiti American IPA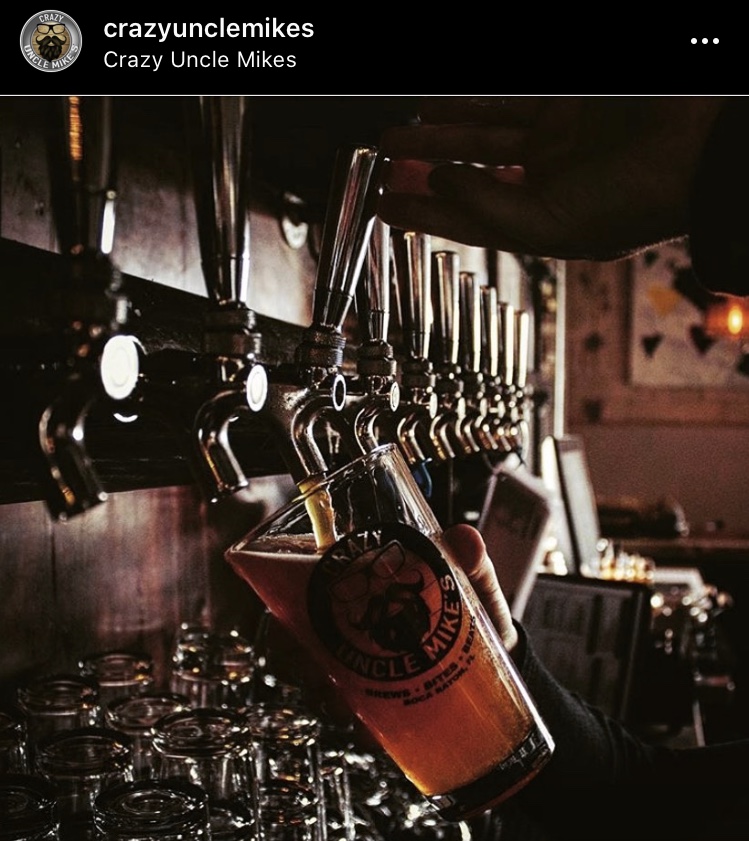 Named for the Led Zeppelin album of the same name, the flagship brew from Crazy Uncle Mike's is a true American-style IPA. Not quite a New England, and not quite a West Coast, it's a delicious ale somewhere between the two. Sitting at 58 IBUs and 7.6% ABV, it presents as a slightly-hazy, straw-colored IPA that is bracingly crisp, dry, and nicely bitter. The brewery began making it as a way to tap into the haze craze, keeping in mind that the brewery's everyday IPA should still have some balance.
The final result is the best of both worlds: a bright aroma and juicy finish thanks to an over-the-top hop bill with loads of Cashmere sourced from Michigan Valley that offer tropical notes with an almost-candied lime and pineapple twist. From there, large amounts of Mosaic and Citra finish it off, as well as the addition of a steam-distilled wet Cashmere hop oil right before kegging for that extra pop of aroma and flavor.
Due South Brewing Co.
Category 5 Double IPA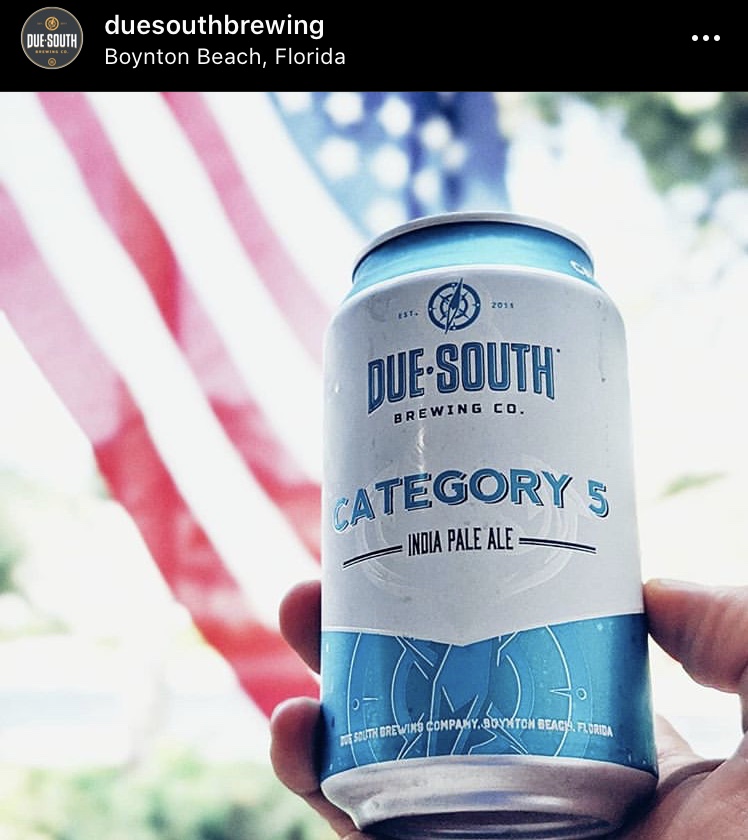 The Category 5 DIPA's original name was Island Hopper IPA before Due South's hurricane series including Category 3 (and the seasonal release of Category 4. Category 5 DIPA has won so many awards that it's no wonder this beer is considered one of the best IPAs in Palm Beach County. In 2014, it received the gold medal at the Best Florida Beer Championships for an imperial IPA, and was a second runner up for "Best in Show."
Two years later, it won the silver medal at the 2017 Can Can Awards for its style. In 2018, the US Beer Tasting Championship named it the "Best Imperial IPA in the Southeast." What's that really mean? This Citra dry-hopped imperial India pale ale is one of your more ol-school IPAs: fruity hops, gentle malt backbone, and a little too crushable for its 8.5% ABV.
Prosperity Brewers 
Clutch Plate American IPA
This nano-brewery in Boca Raton is known for several of its signature beers, from the Intra-Kolsch blonde ale and Tang tangerine Berliner Weisse to its Publand English Mild. But it's the Clutch Plate IPA that's been around the longest, an original recipe from founding head brewer Cameron Donisi. A favorite of local fans, it saw Prosperity Brewers through its early days participating in area beer festivals before opening its taproom in 2017.
Brewed with a combination of Columbus, Mosaic, and Citra hops, Clutch Plate walks the line between East and West coast IPAs. You get the tropical fruitiness of a typical East Coast-style while being anchored by a solid malt backbone and the appropriate bitterness you'd find with a West Coast take. 
Steam Horse Brewing
Golden Spike New England Double IPA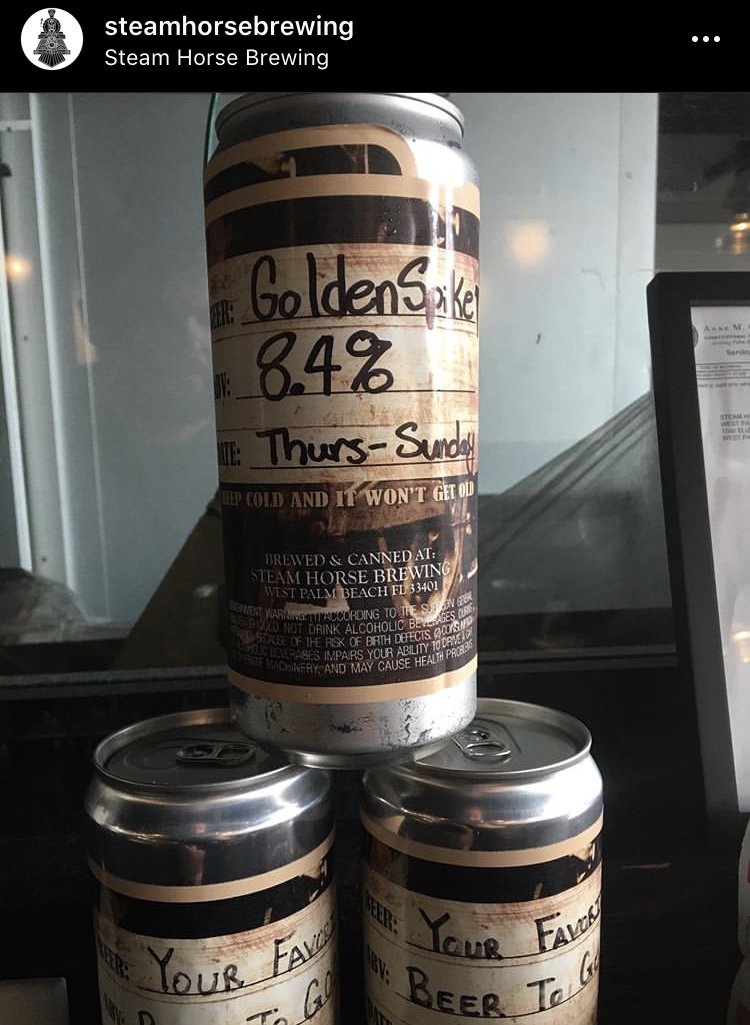 Keeping with Steam Horse's railway theme, the Golden Spike DIPA is the brewery's tribute to the 17.6-karat spike that joined the eastern and western lines to complete Northern Pacific's transcontinental railroad near Independence Creek in western Montana in 1883. It's fitting that the New England-style imperial IPA pours a rich, opaque gold. It looks pretty, but tastes even better, with a modest 30 IBUs and 8.2% ABV. Loaded with premium brewers malts, it's given a generous dose of fresh Mosaic hops with an added splash of pineapple juice for a complex finish that delivers tropical undertones with hints of berry and stone fruit.
Tequesta Brewing Co.
TSVP IPA
Short for S'il Vous Plait — or "please" in French — this beautiful, orange-hued IPA from Tequesta Brewing will have you saying just that. Recently released on Aug. 21, TSVP IPA will be a yearly release around this time—so keep your eyes peeled for this smooth sip. Hopped with a classic combination of Cascade and Mosaic, it's a great example of an uber-juicy New England-style take. With its chowder-y mouthfeel and smooth finish, it's distinguishable by its exceptionally low hop bitterness with just 24 IBUs despite a moderate 6.4% ABV. Hints of grapefruit and island fruits make this a mouth-watering, crushable brew.
Twisted Trunk Brewing Co.
IPGA American IPA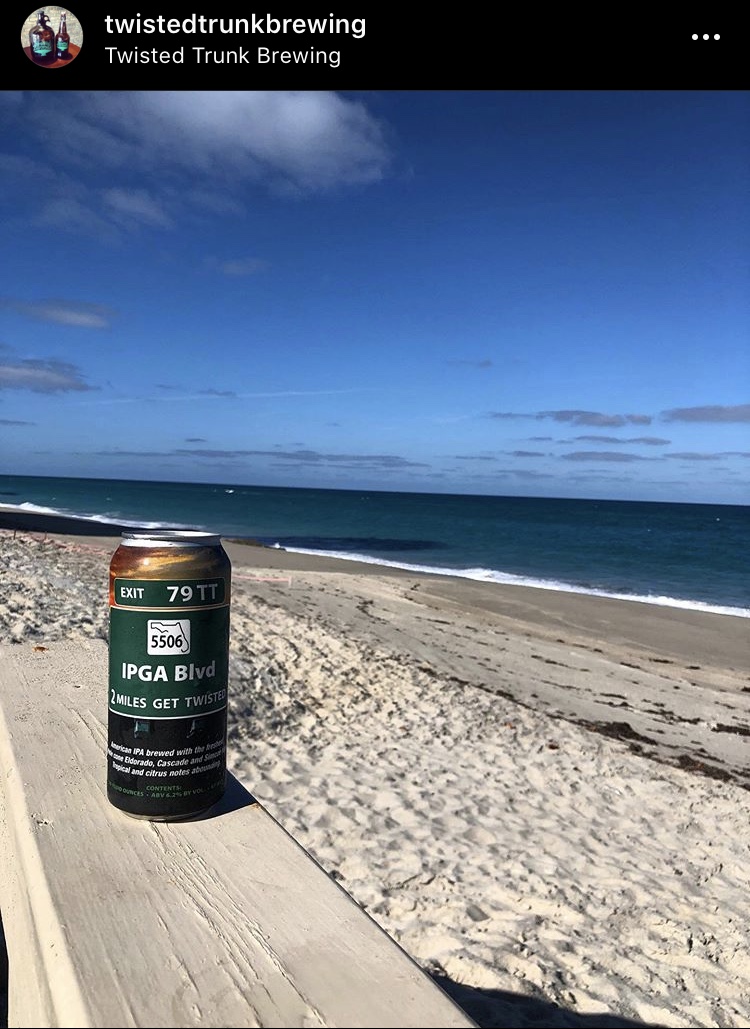 The IPGA is named after the PGA Boulevard, a play on the acronym for the iconic street in Palm Beach Gardens that delivers you directly to the brewery. Almost West Coast in nature, this is a slightly malty ale that displays its hop bitterness perfectly. At 6.2% ABV, the IPGA pours a deep coppery golden hue with an aroma that isn't particularly strong but does waft a pleasant scent of hoppy pine and citrus.
The palate begins with a dose of hops right on the tip of the tongue, a solid 67 IBUs thanks to the interaction of Eldorado, Simcoe, and Cascade hops. Mellow notes of orange citrus follow flavors of biting grapefruit and citrusy pine that finish with a sweet hint of watermelon. An undercurrent of bready malt mixes in the base but lets the bitterness shine through from start to finish.