Ten Day Tennis Tournament Brings High Level Talent With A South Florida Twist
By Darien Davies
Gone are the days of boring tennis. Let's welcome the Delray Beach Open with open arms, and enjoy tennis, more tennis, and much more than tennis. The 10-day event features live music, local artists, a VIP lounge, parties, and some of the best tennis players from around the world. So snag some tickets, grab a drink, take a seat and get ready to fall back in love, love with tennis.
Home court advantage:
The Open is held Friday, February 16 through Sunday, February 25. Daily sessions include several matches and are held from 11 a.m. to 8 p.m., and there are two to three sessions per day. Reserved seats range from $38 to $59 per session, courtside box seats range from $62 to $86 per session, and veranda/on court seats range from $100 to $250 per session.
When you need a mini-break:
Need a little time out of the sun? The organizers have you covered. They have live music performances that can be enjoyed before and after all featured matches, including day, night and both weekends. You can also head to the Drop Shots Bar to feed your gullet, and the Food Court or Mark's Too on-site restaurant to feed your belly. There's even a VIP lounge in the clubhouse that veranda/on court ticket-holders have complimentary access to, and reserved and box ticket-holders can upgrade and gain access for $15 more per session. With that, you get 2-for-1 happy hour drinks, available all day, every day.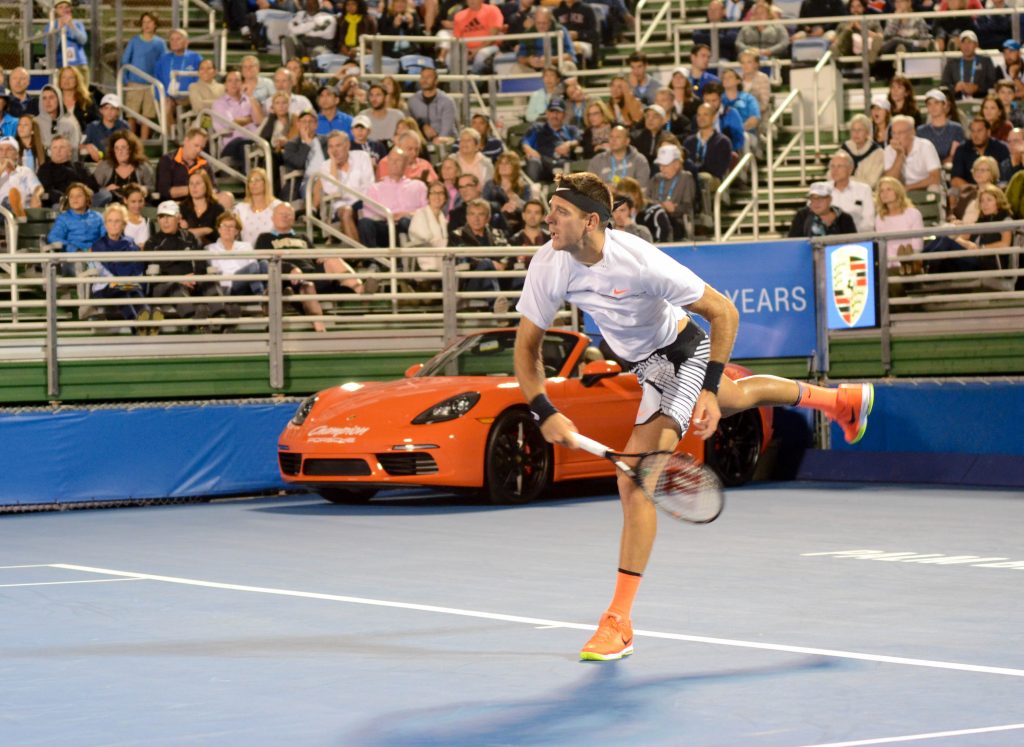 Singles and Doubles:
This is the world's only 10-day combined ATP (Association of Tennis Professionals) Champions Tour and ATP World Tour Event, and it's available in our backyard.
The first three days are the ATP Champions Tour, which include national and international players who recently retired, like John McEnroe, Fernando Gonzalez, Jesse Levine, and others. The remainder of the schedule is the World Tour, and includes some of the hottest names in professional tennis, like Juan Marin del Potro, Jack Sock, the Bryan brothers, Ivo Karlovic, Sam Querrey, and more. The stadium court action is televised nationally on the Tennis Channel and internationally in more than 120 countries, but you'll be able to experience these matches live in your neighborhood with 50,000 of your closest friends.
The Delray Beach Open brings us the best of tennis in our own backyard, and the best entertainment, food and drink off the courts. Mix and mingle with the players in between matches, visit local vendor tents, enjoy food and drink with your neighbors, and have a little fun in the sun. The only wild card here would be how you can call off of work for 10 days, but where there's a tennis will, there's a way.
Purchase tickets HERE