Courtesy: Red Bull Content Pool
Duo win Brazilian showdown at Swatch Beach Volleyball Fort Lauderdale Major.
After five intense days of action on the sun-drenched Center Court, Saymon Barbosa and Álvaro Filho overcame compatriots Andre Loyola and Evandro to win their first tournament together.
A 21-14 21-17 victory sealed a memorable few weeks for the new team having remarkably come through a qualifying event to even reach Fort Lauderdale.
It was the 66th time Brazil had supplied both teams in a men's final of an international event but it was the net presence from 23-year-old Saymon and energy from 26-year-old Álvaro that proved too much to handle.
In total, they won seven matches without losing a set to come out on top of the 32 team event with US pair Nick Lucena and Phil Dalhausser scooping bronze.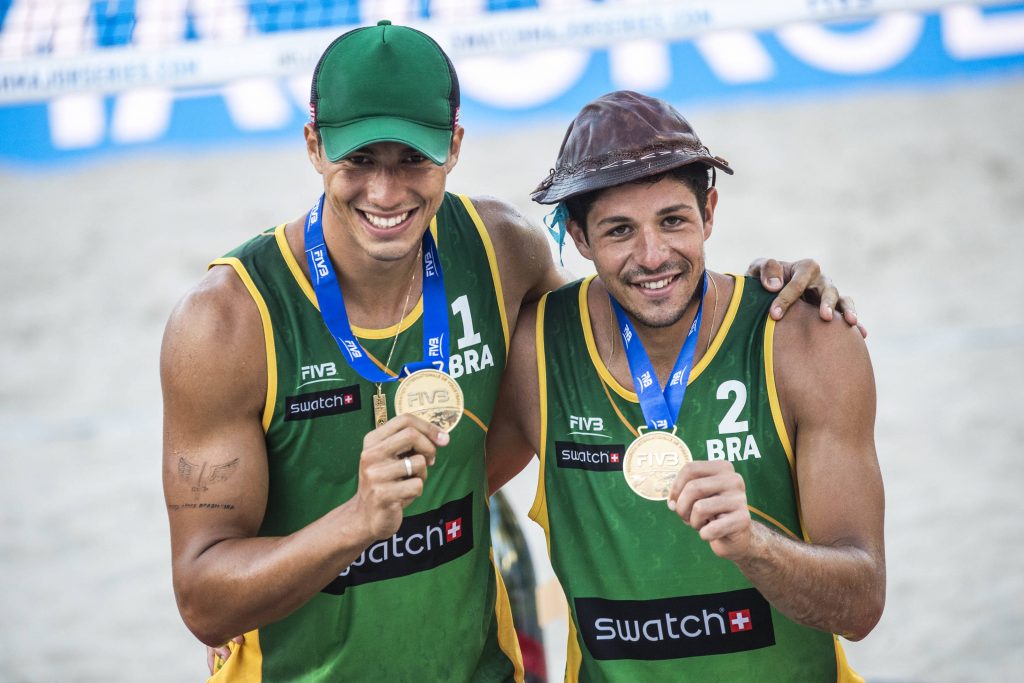 Filho said: "They served well but Saymon helped me a lot. He helped me with the set which I have made mistakes with in the past and I think that was the difference. We played together as a team and it means a lot. Not just for us but for our team here and back at home in Brazil."
Barbosa said: "It's hard to think about the future. I just want to enjoy this victory, but it does mean a lot because we work so hard. I have to say thanks to everyone in Brazil and all our fans here. Thank you so much!"
Both Brazilian pairs had proved triumphant over US rivals in both semi-final contests.
The first match of the day saw Evandro and Loyola beat local favourites Lucena and Dalhausser, despite the American duo eliminating the dominant Rio gold medalists Bruno Schmidt and Alison Cerutti the night before.
An all South American final was complete when Barbosa and Filho ended the dream run of John Hyden and Ryan Doherty.
Tomorrow the action continues, but this time it's the women's turn to rock the packed crowds with their fierce competition as the best players from the U.S, Brazil and Germany square off.