By Alex Rendon
Photos: Kelly Coulson
Six years ago, the thought of placing an Asian noodle spot right in the thick of Boca Raton's opulent Mizner Park may have seemed like a ludicrous idea.  But with the do-no-wrong team of local club owners and restaurateurs  known as Sub-Culture Group spearheading the project, this far-fetched concept may not have seemed so absurd. With Mizner Park's popular Irish pub and eatery, The Dubliner, under their wing, Sub-Culture Group's principal owners, Rodney Mayo and  Scott Frielich were seeking out a sister concept to their upscale watering hole, when the space next door became available. "Sharing the same courtyard, it just seemed like the perfect fit," said  Vaughan Dugan, about the opening of the now crowd-pleasing Pan-Asian restaurant Kapow! Noodle Bar. Dugan, who is one of the founders of organic pizza chain Pizza Fusion, joined forces with Sub-Culture and opened up this comfort food haven in Mizner Park.
Opening its doors in 2011, Dugan and company proved to be ahead of the curve on the noodle shop craze. Only a few years later, in September of 2013, cache' bible Vogue Magazine would do a profile piece on rising celebrity Asian chef David Chang, and his popular New York City noodle shop Momofuku.  Dugan tells us that although Kapow opened up a few years before the Chang article (which would make noodles a posh food item) this Korean-American chef and entrepreneur was already on their radar and proved to be a huge inspiration. "We are all students of the food industry, and very keen on trends," explained Dugan. "[Chang] received his first James Beard nomination in 2006 and was already an extremely accomplished restaurateur before the Vogue article,"  said Dugan.  Chang's success gave Dugan and his partners  insight on a unique opportunity.  "We saw a chance to take something that may have been considered a niche cuisine and bring it to the masses."
Chang's eatery was one of the many places the Kapow team consulted for "market research,"  which, in other words, consisted of the crew taking several road trips, and eating at over 100 noodle joints from New York to San Francisco. It was during these buddy-buddy road trips, disguised as business fact-finding missions, that the crew came to the conclusion that Boca Raton lacked a concept like Kapow, and decided to take the gamble.
Given the fact that the noodle bar has taken off like gangbusters in our area, that risk has seemingly paid dividends. One of the reasons for Kapow's success is its ability to please many palates, according to Dugan. "Our executive chef Caleb Holman has created  a menu that has something for everyone. Drawing inspiration from all of the great flavors of Asia — from our Korean Bulgogi tacos to our pad thai, and Vietnamese chicken wings, we have true diversity."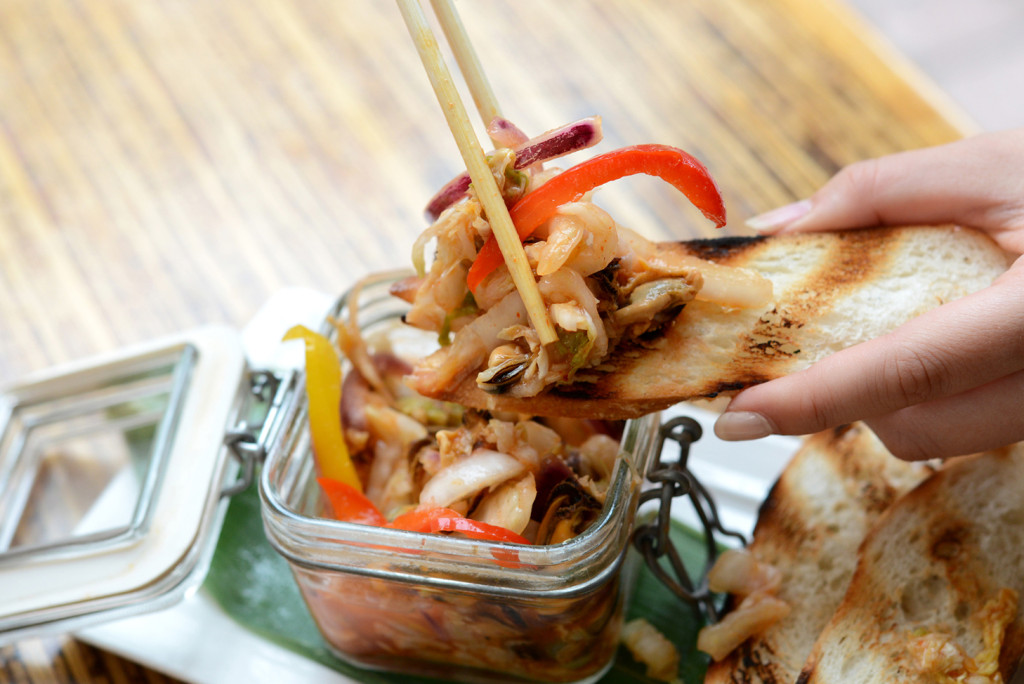 In addition to all of the Eastern cultures represented on Kapow!'s menu, Dugan tells us that Chef Holman has created a spectrum of complexity as well. "From simple dishes like edamame to the more daring beef tongue, even our guests with very simple desires have a home at Kapow."
Holman is a protégé of celebrated local chef Bruce Feingold, who mans the kitchen at another Sub-Culture hotspot, Delray Beach's Dada.  Holman began as an intern at Dada before stepping up as the sous chef for 11 years and subsequently taking over the reigns at Kapow. Holman's specialty is his ability to create dishes to get people in the door, according to Dugan. "Once we make a regular out of our customers, they tend to place more trust in the kitchen and start trying more adventurous items."
Of all the exotic options available on the menu, it is Kapow's savory ramen noodles which customers order the most;  A Japanese noodle soup, made in the "Shoyu" style, it is Kapow's staple item. "We offer our ramen broth served over our house-recipe alkaline ramen noodles and topped with soy, chicken, pork or skirt steak,"  Dugan explained.
Chef Holman and his team make everything from scratch each morning, added Dugan. It may be considered comfort food, but fast food this is not. "Our ramen broths are a very laborious process, made with a ton of love," he said. "This is  not a 'set it and forget it' style of cooking" he quipped. The broth is made from pork bones, chicken bones, beef thigh bones and other ingredients — including soy, seaweed, mushrooms, and scallions — and simmered for at least 24 hours.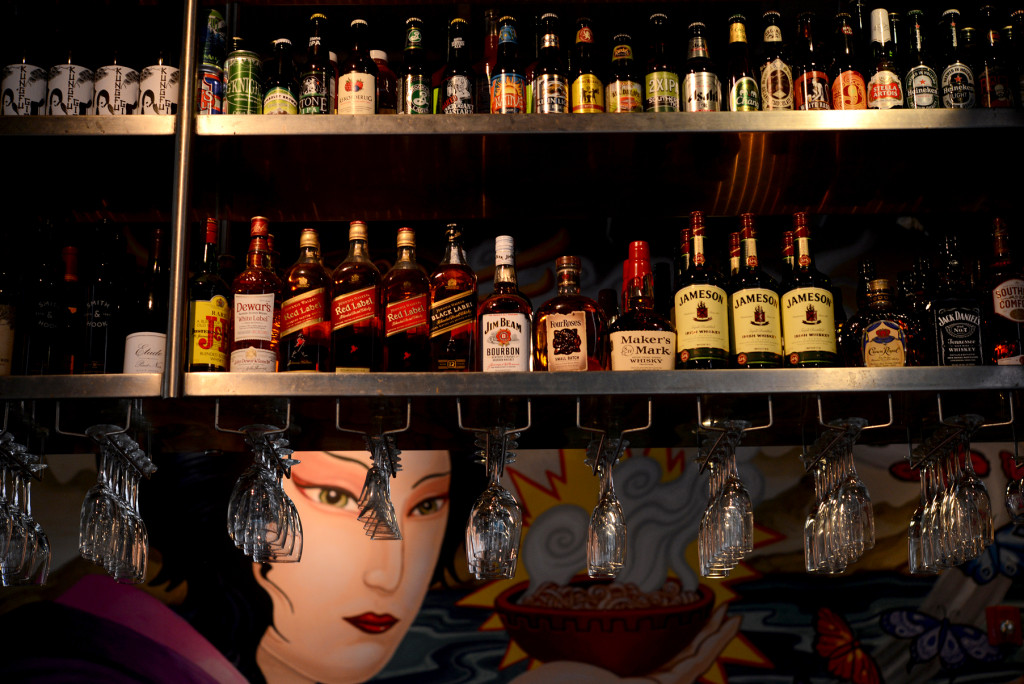 Inspired by the Asian spices found on its menu, Dugan tells us the cocktail menu, designed by his wife Angela Dugan is also ahead of the curve. Incorporating such items as salted cherry blossoms flown in from Japan, Mrs. Dugan's not afraid to take risks. Angela uses fresh herbs in her cocktails taken from Kapow!'s own plot at the Boca Raton Community Garden and takes a fresh bold approach on classic cocktails like the Bloody Mary.
Having won both the best Chinese restaurant, and Angela Dugan the best bartender, in last year's New Times Readers' Poll, Kapow has struck on a winning formula. As far as the group's intent to reach the masses goes, Dugan hinted that another Kapow location may just be in the works. "We certainly think South Florida is ready for Kapow number two," said Dugan. "We were out scouting locations this past weekend;  I can assure you that you will see a second Kapow in 2015!"