Like Father, Like Son
Although Greg Norman Jr. isn't following his father's golden footsteps on the PGA Tour, he is taking a page from the Shark's book and pushing a sport – kiteboarding – to new levels in skill and popularity in South Florida.
By Cash W. Lambert
Photography by Ben Hicks
I'm sitting at a bar next to Greg Norman Jr. and we're not talking about golf. Instead, we've talked about kiteboarding. Surfing. Fiji. Nicaragua. What happens when you eat pork in the Dominican Republic. Spearfishing. Australia. Business ventures and Shark Enterprises. The FIFA bribery scandal. The Miami Dolphins. More kiteboarding.
And throughout this discussion, Greg's demeanor is striking. He keeps asking me questions, genuinely inquiring. His green/blue eyes are staring directly into my pupils the entire time I'm speaking. Greg is handsome, and it's obvious our waitress thinks so too. He has a smooth jaw, snow white teeth, dimples when he smiles (especially when telling the Dominican Republic story). He's clean cut and pure muscle.
Because we've just met, I'm trying to play it cool. Acting like I haven't researched his name (son of the Greg Norman, and before graduating from the University of Miami, he wrote his thesis on cable wakeboard parks) and his recent adventures (his instagram feed is visual quicksand, full of blue hues). And if he starts talking golf at any point, I'll really be hitting from the bunker because I know absolutely nothing of the sport, aside from nouns like Tiger, the Honda Classic, Pebble Beach and something about a green jacket.
But his eyes keep lighting up when the conversation delves into kiteboarding, so I'm going to keep playing off that for now, even though I'm not extremely well versed in that sport's terminology either.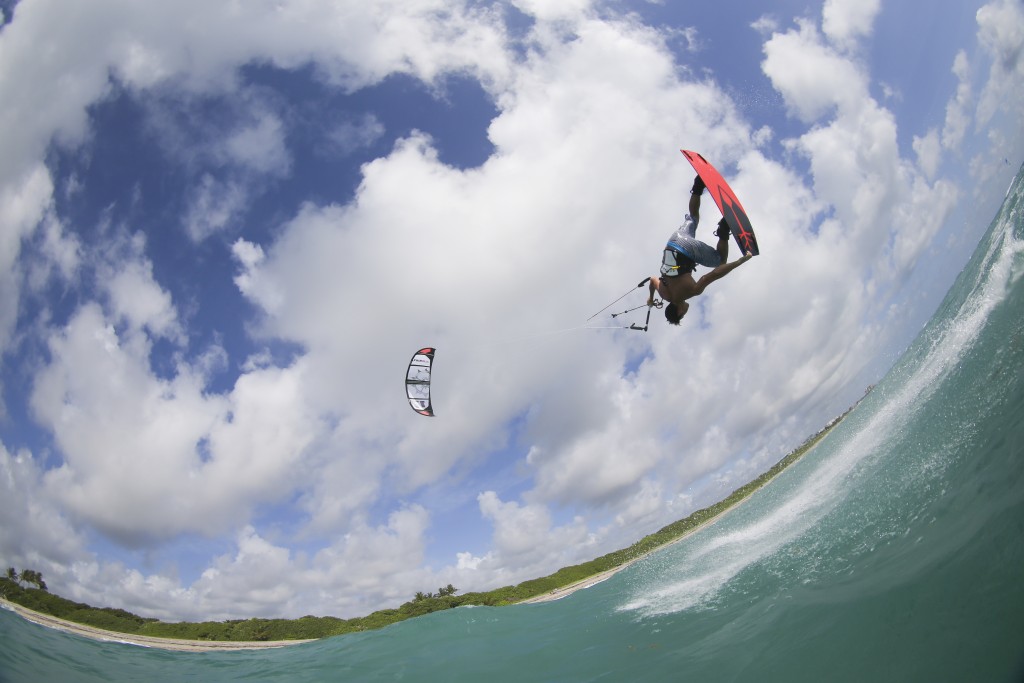 "It's still a really young sport," he continues in between mouthfuls. "I got into kiting in 2000, 2001 when I lived in Maui. Growing up, I was a wakeboarder, a surfer. With wakeboarding, obviously you need someone driving the boat or driving down to a cable park. In Florida, we barely get good days and when it does get good, it's usually windy so I wanted to try kiteboarding.
I moved to Hawaii, hung out with Lou Wainman and Shannon Best (two golden legends of the sport). They were out there riding a kite, so I learned and came back and started teaching some friends here in Florida. Companies started growing, Shannon Best started his own company and I began riding for him in 2004. It's fun being along for the ride, because the European side of kiteboarding focuses on dancing, jumping, spinning, pirouetting and I didn't think that was me. I wanted to wakeboard behind the kite. A small group of guys were wearing boots at the time. A company out of North Carolina called Real Kiteboarding set up shop in the Outer Banks in 2005, 2006 and created the Triple S Invitational ("the biggest and best professional kiteboarding event in the world"), and began focusing on bringing in guys who rode wakestyle behind the kite. It really took off to another level, and right now it's the 10th anniversary of the contest. The first day was today actually….this is the first time I've missed it."
"You didn't miss it because of me?"
He laughs.
"I mean I'm important but not that important…" I say. "I'm just a guy."
"Hey we're all just a guy," he responds.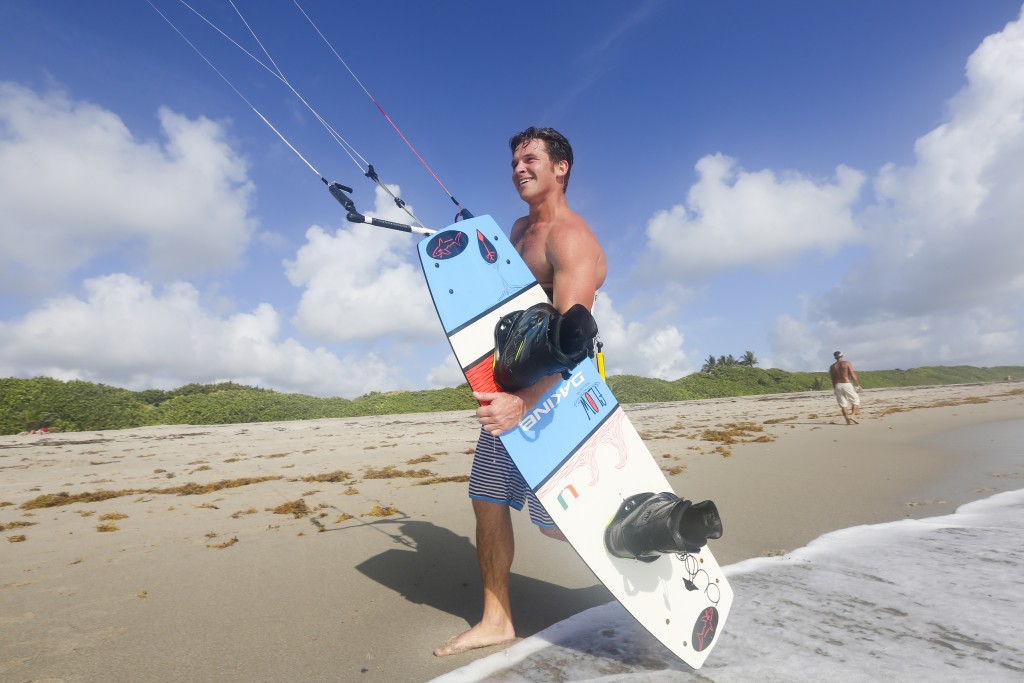 Greg continues "But with kiteboarding, it's your own boat. You can hitch hike up and do downwinders. You can catch 100 waves. It's just like surfing, just using a kite to tow you into the wave. And the sport…the sport
is growing here in Florida."
I'm floored by his humbleness in conversation and demeanor. Because for someone who's had cameras and microphones surrounding his family for as long as he can remember, how can he not think that everything is truly about the Norman's when everyone else is acting like it is?
"I've just been lucky to be around friends and people that really influenced the sport of kiteboarding and allowed me to be a part of it," he continues. "Like Ben Wilson, Trip Forman…just creating that kite brand. These events changed the sport and I've been lucky to watch it grow. With the World Tours, which rarely hit America, before the competition was about big air, tricks, and now they're all wearing boots and doing tricks exactly like if you were behind the boat. There's guys I got to ride with like Andre Phillip and Jason Stone. These guys pioneered that style back in the day. It's fun to see in the mainstream kiteboarding world what happened years ago."
He puts down the fork and stares a hole in my eyes. "You know, I should introduce you to a friend, Jeremy Lund. He owns a kite school based here and takes people up in Stuart and teaches them how to kite."
He's quite convincing too, because I'm now imagining myself skidding downwind, carving and sliding. I look back at him and notice the shark emblem on his hat, and it reminds of the one question I came prepared to ask.
"So what is it like having your dad's legendary name?"
He stops chewing, looks at his water, and then back into my pupils. It looks like he's answered this question hundreds of times. "It's a blessing, but you're always going to be labeled as Greg Norman Jr. and people say 'well what have you done' and 'how good are you at golf'…So what's it like? It's not a bad thing because my dad is an awesome guy. He's someone you'd gladly have a beer with. He set a standard in business so to have him as a father let alone good friend as I'm coming into the business world, just being able to pick his brain and listen to the stories he has… to have him not as a golfer but Greg Norman the dad is awesome because he's a hell of a dad. The public, well it's always questioning things…"
"Do you like being in the public eye, in that regard?" I inquire.
"If I liked it I'd be in Los Angeles or New York. I chose a life where I wanted to be doing something I love doing: kiteboarding and wakeboarding and business here in Florida. It's where I grew up, it has everything you could really want and it's where family is. And with your family being in the public eye, you have to get used to it or run away…I've embraced it and used it. I've seen a lot of people way more powerful than us that absolutely squandered what they had and that's something I've never wanted to be like. 'Hey look at me I'm Greg Norman's son'…what the hell does that mean? It's what you do that should define you."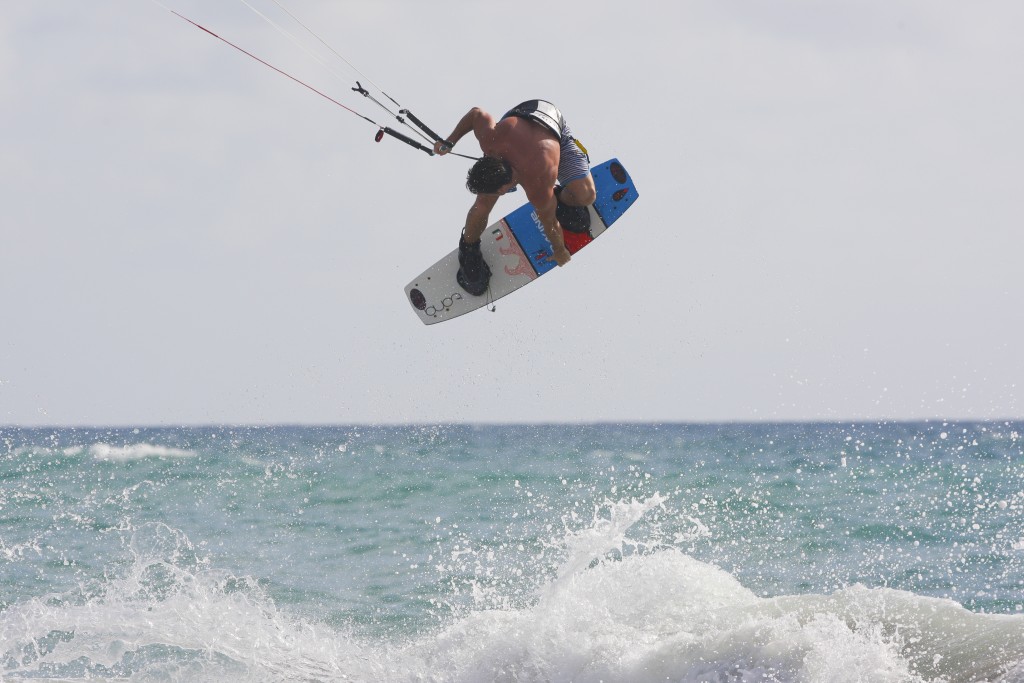 "So with the name, do you feel pressure?"
"I loved golf, and I still love golf to this day, but when I started playing competitively I was trying to be low profile and work my way up. When I was playing guys like Peter Uihlein and Rickie Fowler they were the best amateurs, and I'd have press on the tee box at the first hole. Cameras in my face. That's why I love kiteboarding and wakeboarding… no one knew who I was or cared who my family was."
Now the sport knows Greg as a sponsored pro and someone with a brilliant mind. I ask what the upcoming months hold, besides the cablepark set to open in Palm Beach County "soon".
"There's actually a new kite event, where we'll be kiting from the Northern tip of the Great Barrier Reef in Australia to the Southern tip, for ALS and conservation for the Great Barrier Reef. It's 1,000 kilometers, and it's going to take 10 days."
With that, his phone begins to buzz and I know he has to jet. Bills paid, I lead the way to the door, noticing that a handful of people seem to be staring directly behind me as we walk. "So tomorrow, I'm heading to the cable park in Deerfield if you want to join," he says as the June air sinks into our skin.
Before our conversation, I'm not sure if I would cancel appointments and shift my schedule to go. But now I want to. And with a bit more exposure, I think the masses in our action sports culture will follow.