Appreciate the GreenMarket History it in its Downtime, Enjoy it in its Return
By Darien Davies
Photos Courtesy of the City of West Palm Beach.
If you find yourself needing somewhere to go on a beautiful Saturday morning, look no further than the West Palm Beach GreenMarket. It isn't shy about being more than your average green market and is proud to show you why. Come on, let's get fresh.
History
In November 1995, the first West Palm Beach GreenMarket — and the first weekly, public farmers market in Palm Beach County — opened, featuring 13 vendors, and took place in the parking lot of the Old City Hall, all thanks to a little foresight from Mayor Nancy Graham. By the end of the second season, the Market was busting at the seams due to vendor interest (which grew to 45) and quickly relocated to its current, scenic home on the new West Palm Beach Waterfront, which not only boasts amazing views but also double the vendors.
Overall, the West Palm Beach GreenMarket has been awarded more than four dozen awards over its 20+ year history, including standout recognitions by New Times magazine in its "Best Of" issue, and as the best market in Florida by Cooking Light magazine — in its list of "America's 50 Best Farmers' Markets." Even COVID couldn't stop the GreenMarket force because the Market ended the 2020-21 season with a national recognition, being named the "Best Farmers Market" in the U.S. by USA TODAY 10Best!

What to Expect
As far as vendors go, imagine you're going to a mall but it's the opposite because it's outdoors, it's actually enjoyable to shop, and you feel good about helping small business owners. Not only can you find everything to eat from pickles to produce, you can also enjoy homemade soaps, teas, herbs and more. On top of that, the location can't be beat.
It's a great opportunity to bring the family and spend time outdoors, shop with the pals and hit up brunch after, or ride in solo grabbing some cocktails or coffee and people watch till you just can't anymore. It's Saturday, it's a local GreenMarket, there are no rules!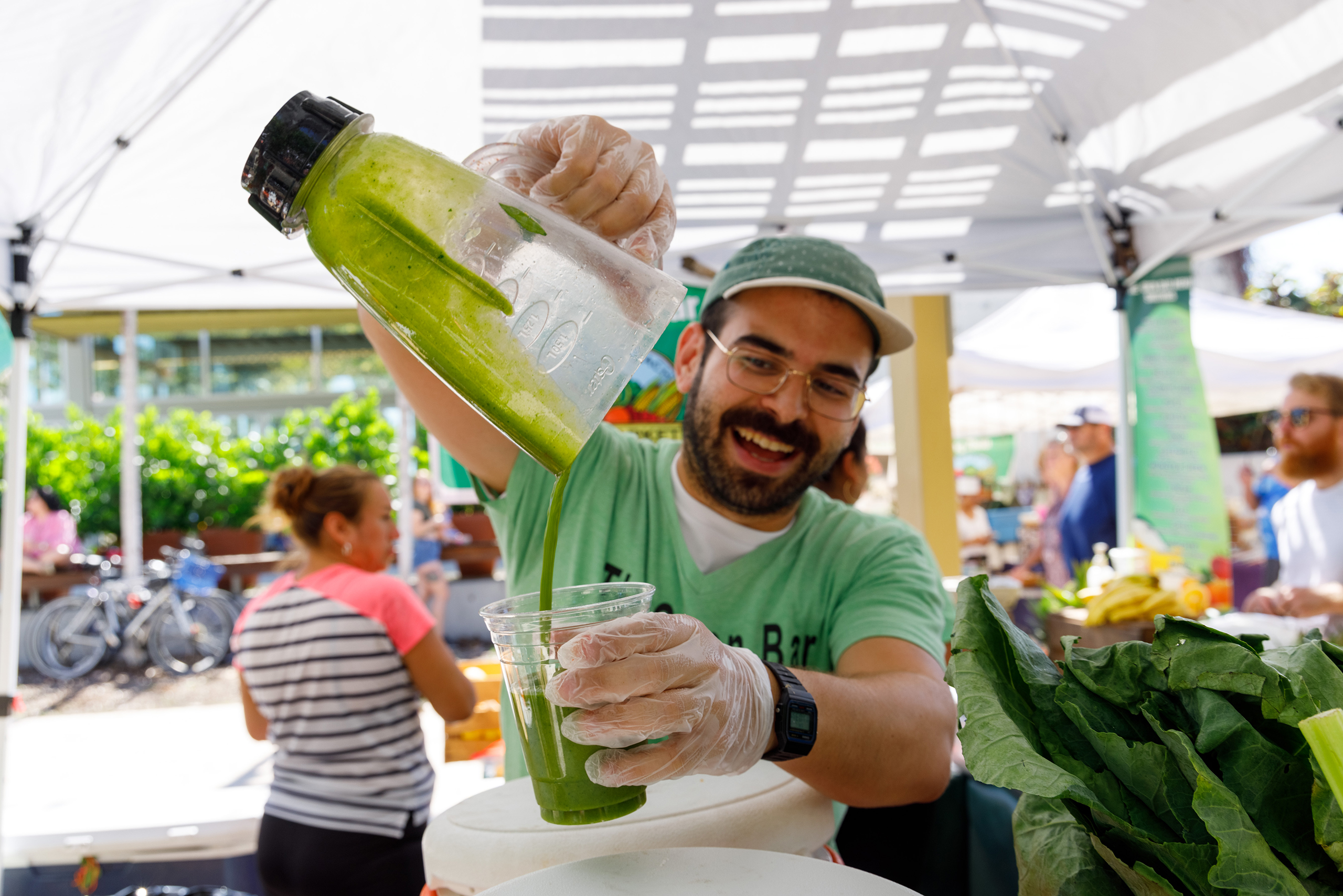 Getting There
The GreenMarket is located at 100 North Clematis Street, West Palm Beach, FL 33401. Parking is FREE at the City Center, Clematis Street and Sapodilla Garages during market hours (9 a.m. to 1 p.m.). There is a $5 daily, flat fee if entering before 9 a.m. or after 1 p.m.
Right now, the West Palm Beach Greenmarket is currently closed. The 29th season will open on Saturday, October 7, 2023, and will be held Saturdays from 9 a.m. to 1 p.m., through April 2024.
So, mark your calendars and grab your reusable bag because the GreenMarket is calling your name!