They've Got the Juice
Photos by Nothing Negative Co.
As Jupiter has evolved over many years, it's traded fishing and farming for more modern pursuits. This led to a thirst for cold pressed juice — though don't quote us on the pacing of that history lesson. Now, what used to be considered a delicacy of valley girls, exists on almost every corner in Jupiter (and fyi we're fudging geographic town boundaries here). There's no question that cold-pressed juice is a trendy treat, but its superficial reputation pays for itself in the copious health benefits. Another less spoken about benefit is that you can find Atlantic Current at most of these spots. What a coincidence.
Cold-pressed juice is basically your fruits and veggies (and sometimes other superfoods) in a bottle. It can boost the immune system, provide antioxidants, energy, and more. Like we said, there's quite a few options of where to get cold-pressed juice. We've created this guide to make that decision a little simpler. Or, more likely, so that you can try each spot.
Modern Juice Co.
At Modern Juice Co., you'll find the juices' names very accurately describe what they do. For example, Hydration (cucumber, celery and lemon) is a hydrating blend, Sunshine Punch (carrot, apple, pineapple, orange and ginger) is an immunity-packed dose of Vitamin C, and Pipe Cleaner (cucumber, kale, celery, lemon and ginger) is, well, you get it. The walls are covered in local art for sale that encapsulates the Jup vibe almost as well as the menu items. In addition, the ingredients for those menu items are sourced locally and organically.
287 E Indiantown Rd B10-A
@modernjuiceco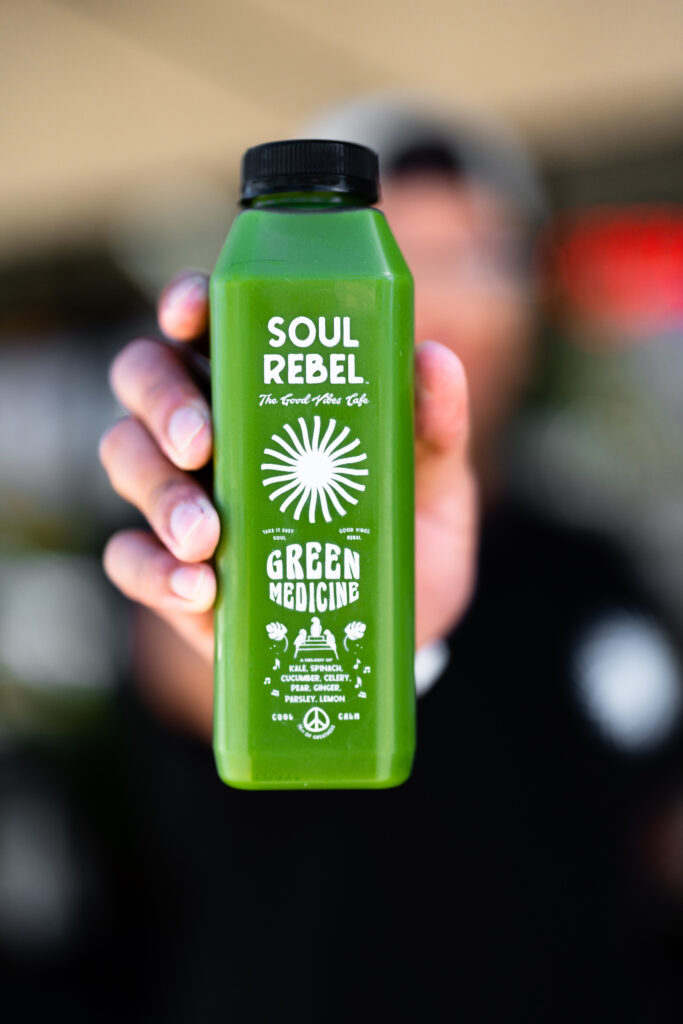 Soul Rebel
Formerly Rock Steady, now Soul Rebel since 2021, this spot rebranded and created a new space with Michelin Star updates to the menu from Chef Chris Morgan. Michelin Stars may not exist for juice, but who knows; that might not stop Soul Rebel. The shop cultivates an earthy, welcoming vibe with lots of couch seating, colorful murals and smiles all around. We recommend Green Medicine (kale, spinach, cucumber, celery, pear, ginger, parsley and lemon) to give you a boost. If you're not so into the taste of green juice, try Brain On (pear, apple, lemon and blue spirulina) for a sweeter option that still has superfood benefits.
201 US-1 Suite C-5b
@besoulrebel
3 Natives
This franchise was actually inspired by juice shops in California. Owner Anthony Bambino knew that South Florida could use a little dose of freshness, and what started in 2013 as a standalone in Tequesta has grown to be a collection of over 20 stores. The bright, beachy interior is a great way to escape the heat on a summer day. Pair that with a cold-pressed, refreshing juice and contentment is practically guaranteed. Our juice recs are Lean N' Green (kale, pineapple, pear and lime) and The Beet (beet, orange, apple and carrot).
4601 Military Trail #107
@3natives
The Juice Stop
Wyatt and Jessica Cruz Derrick started The Juice Stop after years of working in restaurants in the Northeast. After suffering from accidents and autoimmune illness, they found the power of juicing was a huge help in their healing. The Stop includes nods to the couple's Brooklyn roots with subway themed branding and white brick interior. They feature a couple unique ingredients that you probably won't find on other menus such as green cabbage and sweet potato. Who knew you could even juice a sweet potato? We recommend the Problem Solver (sweet potato, lime, pineapple and ginger) for the ingenuity alone.
6390 W Indiantown Rd #41
@thejuicestop561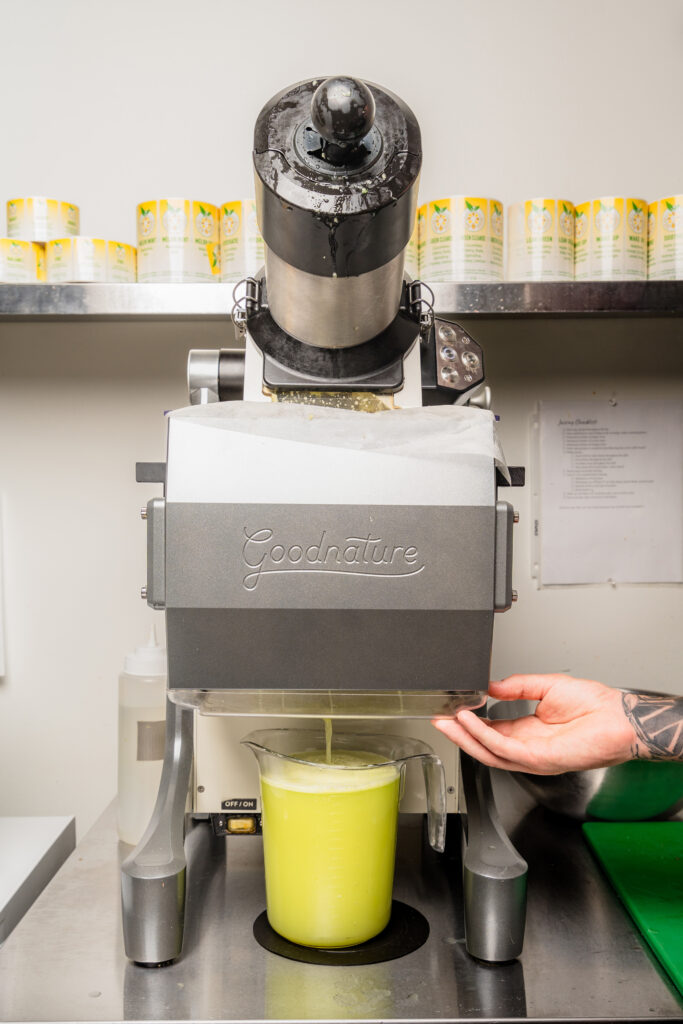 Golden Juicery
Located across from the Juno Beach Pier, Golden Juicery makes a good post beach pit stop for a refreshing juice. The space is filled with rattan and greenery to make the perfect tropical oasis fit for beach bums, surfers and even the touristy folks. For some citrusy heat, try Refresh (pineapple, apple, cucumber, ginger, lemon and cayenne) or try Melon Mint (watermelon and mint) for a no-nonsense option. Golden Juicery also offers various juice cleanse options if you're looking for more commitment.
4050 U.S. Hwy 1 Suite 314
@goldenjuicery
Raw Juce
With 11 South Florida locations, Raw Juce is a popular spot for everything from smoothies, to acai bowls, to, of course, cold-pressed ju[i]ce. Their produce is all organic and the juices go through a rigorous taste testing process before being released on shelves. We like Namaste Green (parsley, spinach, romaine, kiwi, lemon, gala apple, kale, chlorella and ginger) for its balanced taste and Flu Warrior (garlic, pineapple, lemon, ginger, honey and cayenne pepper) to knock our immune system back into gear.
5270 Donald Ross Road, Suite 105, Palm Beach Gardens
@rawjuce
Meraki Juice Kitchen
Meraki is under the same ownership as Christopher's Kitchen, a well-renowned vegan restaurant in Palm Beach Gardens. The northern Meraki (there's also one in West Palm), is closer to Jupiter than CK and is certainly worth mentioning amid the other popular spots. They have a huge array of juices and other menu offerings perfect for grabbing something on the go. We like Coco Blue (coconut water, lime, blue spirulina, trace minerals and electrolytes) and Bright (pineapple, fennel, apple, lemon, lime, ginger, kale and cilantro).
4550 Donald Ross Rd Suite 105, Palm Beach Gardens
@merakijuicekitchen