Words By Natalya Jones
Photography by Ben Hicks
Take Pinterest inspired recipes, a few words of advice from friends, and some stimulation from Instagram filters. Mix it all together and what do you get? An attempt at a "new" cocktail. However, there exists far and few that can create a cocktail unique that has never been completed before, despite various ingredients readily available at our greedy fingertips. Take, for instance, Brett Hart. Hart is the head mixologist at West Palm's Hullabaloo and has worked at the gastropub for a little more than a year. The "Mad Scientist," according to his business card, takes full advantage of the creative freedom and room to experiment that Hullabaloo grants.
When asked what his favorite ingredients to include in drinks were, it's blatantly apparent that Hart knows how to use his resources. "I like using shrubs, gastriques & syrups that I make in the kitchen at Hullabaloo using different combinations of fresh ingredients [fruits, herbs, spices, and sometimes vegetables]," the mixologist explained. "They can add layers of density and a complexity of flavors that you don't get from factory flavored spirits."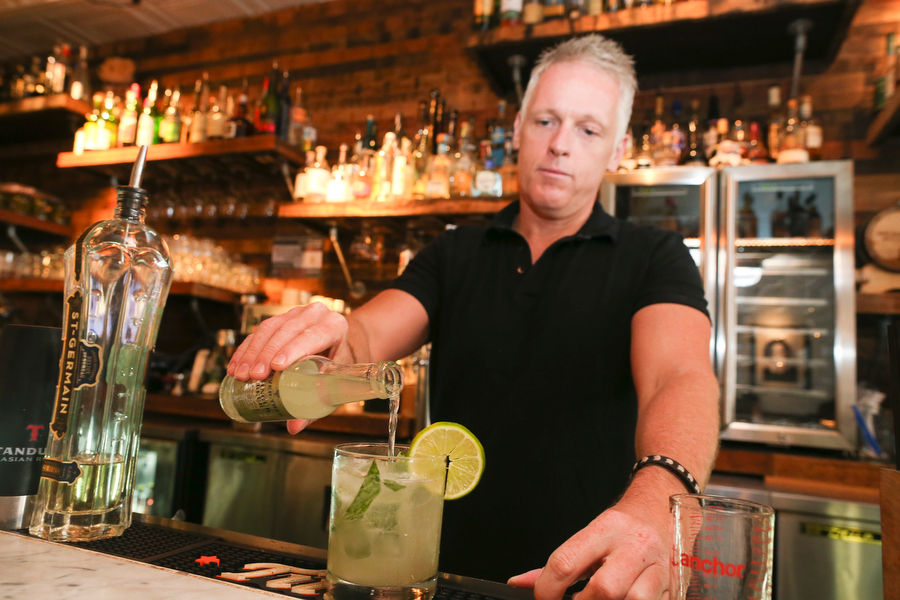 Despite the intricate detail placed into his carefully formulated cocktails, Hart's preference for alcoholic beverages is quite simplistic. "I don't drink much hard liquor," he admitted. "I usually stick to wine or beer, but I like the Balvenie 17 yr. whisky over a big ice cube."
Hullabaloo is one of the many great establishments under the Sub-Culture Group, a restaurant company that also owns the free-spirited Dada and traditional Irish Dubliner, amongst many others. The gastronomical pub has a meal price range of $10-30, which is refreshing from the unusually highly priced meals typically found in West Palm.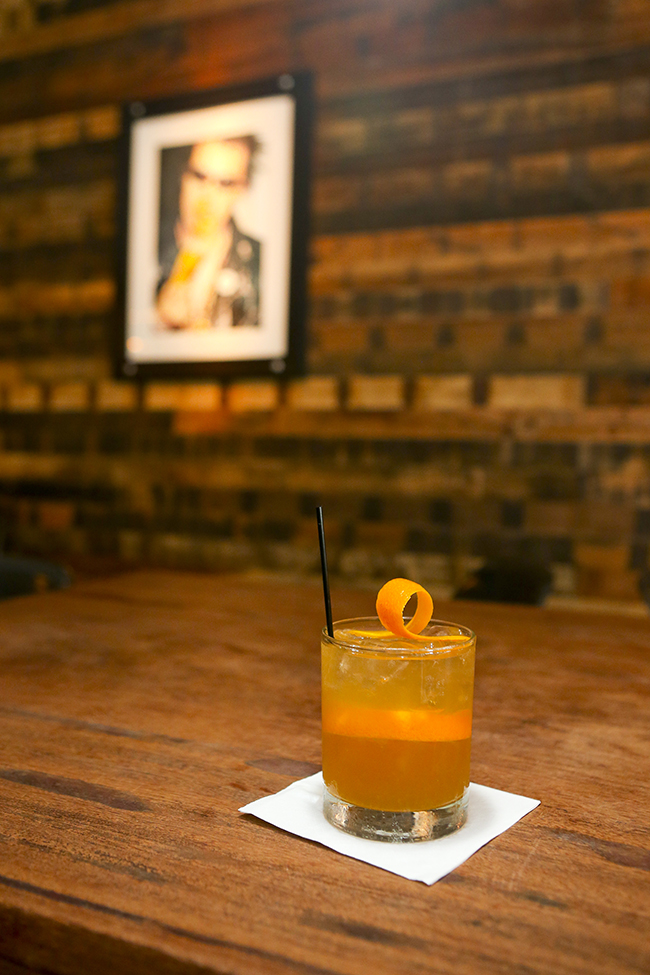 One of its most popular cocktails, the Dimebag Darrell (pictured above), contains a slew of ingredients unique to the standard cocktail. It is comprised of Tap 357 (blended Canadian rye whiskey that's aged in maple syrup barrels), Cocchi Americano vermouth, habanero bitters, a Serrano pepper, house made sour and orange blossom honey gastrique that Hart makes himself. Again, the man knows how to use his resources. The drink is named after the guitarist Dimebag Darrell of the metal band Pantera. Hart claims, "'Cowboys From Hell' was the inspiration for a riff on a whiskey sour with some spice & heat on it." In a nutshell, it's an "intoxicating" tribute to the band. The same theme spans their other signature cocktails, all being named after deceased rock stars.
So is the Dimebag Darrell here to stay or is it as seasonal as Starbucks's Pumpkin Spice Latte? "I like to change up the cocktail menu seasonally, but some of the popular ones like Dimebag Darrell become more permanent fixtures," Hart said. Thanks to the eclectic ingredients blended in with Hart's suave style, it looks like this drink isn't going anywhere anytime soon. Well, except down the esophagus and into the livers of thirsty Hullabaloo attendees. As Hart said, "Always drink the good stuff, you deserve it."
517 N Clematis St, West Palm Beach