Find Your Hoppy Place at Delray Beach's Self Service Beer Bar
By Mike Jurewicz
Photos: Alexis Paige
In the world of craft beer, choices are becoming plentiful. Beers that once could only be found at specialty bars can now be found at chain restaurants from coast to coast. Gastropubs and beer bars are popping up everywhere, offering a curated selection of local, regional, national and international beer options. With so much of this going on, it can be difficult to find a way to set yourself apart when many places can seem so…familiar. In steps Hopportunities.
Just a few blocks north of Atlantic Avenue in Delray Beach, this beer hall is decorated with a very Delray/Palm Beach vibe, including plenty of floral patterns thanks to the mural and artwork of local artist Nicole Galluccio. It's bright (with a lot of windows for natural light) and inviting. A dark, dreary dive this is not.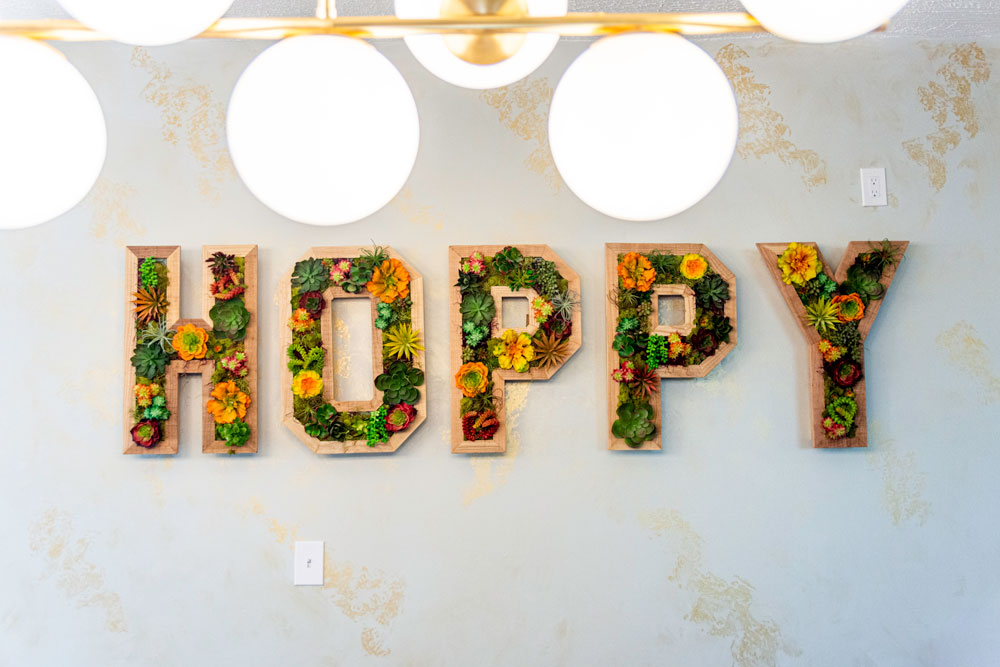 Started by insurance salesman John Macatangay, Hopportunities is a self-serving beer bar. Yes, that means you, the customer, pour your own beer. But have no fear if you've never pulled a tap handle on your own because the Hopportunities staff is there to assist through the whole process. After initially getting your RFID-equipped wristband, you will be allowed to peruse the more than 55 taps of beer, wine, coffee and kombucha. Everything is priced per ounce, which allows you to pour as much or as little as you'd like. Just want a couple ounces of that stout over there? Perfect, you got it. Just grab a glass, rinse it (absolutely rinse your glass) and tap your wristband to the screen above the drink you'd like to try. Pour, enjoy, rinse and repeat. When you're done, they will scan your wristband and you'll be charged accordingly for what you poured.
As for that selection, Hopportunities makes it a point to center most of their draft choices around the rising Florida brewing culture. More than half of all beers available will be from breweries located within the Sunshine State from South Florida all the way to the Panhandle. While heavy rotation of taps is a key aspect to the business, John and business partner, David Lipman, also plan on keeping many handles static for thirsty guests who may be more keen on a specific style. Expect to find darker beers, IPAs and lighter beers to always consume specific taps but be rotated by different brewery options.
Macatangay also wants to give back to the community that he is becoming a part of through working with local charities. A rotating tap option with a sparkling green handle, dubbed the Non-Profit Beer, will have 20% of its sales donated to Community Greening, an urban forestry charity based in Delray Beach. Artist Galluccio is also getting in on the giving by donating 20% of the sales of any of her artwork on display to the same charity.
Macatangay's ultimate goal is really to bring good beer to as many people as possible. He offers discounts all day for in the biz, veterans and first responders, and is also family and dog friendly for those who have kids (of the two- or four-leg variety).
In a cluttered beer market where many things tend to all fit a cookie-cutter shape, Hopportunites is a unique concept that is a welcome addition to South Florida and, really, anywhere.
440 N.E. Fifth Ave., Delray Beach